"Tears" have always ever been a symbol of human and drops of it is always created from a place of beauty

I know how many tears i have teared and i know how many tears you have teared and just how many tears humanity has teared and good or not-so-good tears should have value because in reality they do/did, for Jehovah keeps these tears in a skin-bottle at the very least.

With @teardrops SMT, we will evolve something that restores special value to every and each tear drop. We will be able to use @teardrops tokens to dry up many tears and perhaps, replace them with a new breed of tears: we will add more "tears of joy".
The Curation: A Tear Now Has Value # 10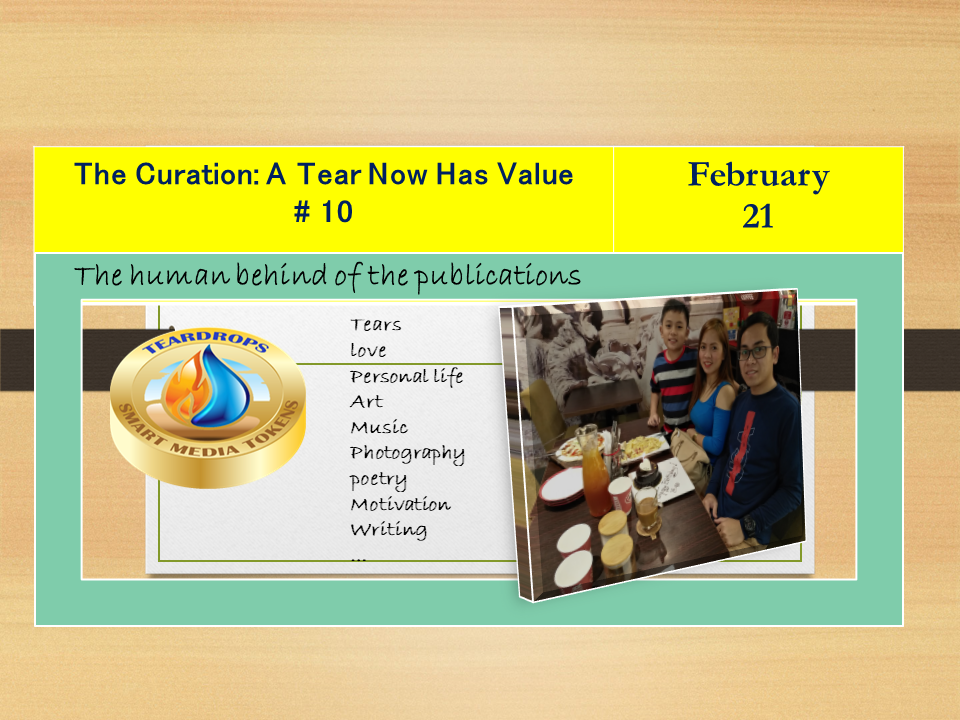 Welcome to the tenth edition The curation A Tear Now Has Value # 10, in this edition, 31 wonderful Steemians are rewarded with extra exposure and ascending votes to create inspiration and add tears of enjoyment.
The human curator presents to:
#
| Author | Description | Post |
| --- | --- | --- |
| @sandaraclark | Personal life: She celebrates her birthday. It's our cover image today. | My simple yet memorable birthday celebration |
| @maylyn09 | Art: logo TearDrops: "…I put the water because I notice that the teardrop also shaped like a fish! A fish diving in a water. So I put the water there so that the teardrop logo can also symbolize "fishes" which pertains to us, steemians. (e.g., red fishes, minnows, dolphins, orcas, whales)" | My Teardrops Logo Proposal |
| @purpledaisy57 | Personal life: "I cry easily. Watching a sad film or advertisement I cry. Even when writing and get emotional I cry or my eyes start to water. I try my best to show I am strong but sometimes it is hard." | My Teardrops Cause By Misunderstandings Will be Dried by Steemsecrets |
| @baby07 | Life: "Since last night I can't do anything nor have a post for my steemit account, I can't even hang-up in discord or facebook because I am in bed tremendously ill with my stomach again. " | The pain I am going through and noone is around… |
| @loraine | Personal life: After what happened to my four dogs I don't know if I'm ready to get another one. Right now while I'm writing this piece I am crying." | Why do you have to leave me my friend |
| @ijele | Blog: "Do you know that there is a synergy between the mind and the tongues and also a synergy between your thoughts and who you are in reality that is why most time you see yourself saying what you are thinking, and acting what you say.." | Impossibilities Do Not Exist |
| @sindy2018 | Personal life:-introduceyourself : "I am Sindy from the Island of Surigao, Philippines. I am a Third-year college student, alone, single and ready to mingle hahaha" | Allow me to welcome in your world, your world is my world, I am Sindy and ready to mingle!!!! |
| @fastfingers | Blog: How to guide children to the right career path in life | Guiding them right |
| @evoll | Personal life: "Valentine came and I am alone. I felt the sadness again the moment you left me forever." | I lost my Husband…but he is still my Valentine! |
| @cestlabby | Blog-Motivation: "Even if you have a flat tummy or a bloated one (like me! hihihi) I hope you do accept your body as it is and love it and not let society dictates how you feel about yourself. Remember that being sexy now is not just your body shape and size but is also a matter of an attitude. " | Your body is a wonderland |
| @shekinahglory | Personal life "…And suddenly i pray Lord, what do you really want me to do. Then a week ago im sick…" "…what a miracle and marvelous our God is." | The changes of me, the process to see what is the reality. |
| @purpleheart | Life: " in this blog, I have to elaborate how my principles and views in life have been because of my grandparents.I am just so lucky that my I have both my paternal and maternal grandparents who were still alive when till I was in high school…" | Teardrops of my Grandparents' Love |
| @zareceerine | Culture-Photography: glass sculptures | Exploring Museo Orlina: Looking Through the Glass |
| @notyourladybug | Photography | A CUP of Happiness |
| @acandal20 | Personal life: Gratitude to parents | Teardrops smt token rewards: Ang Aking Pasasalamat Sa Aking Magulang |
| @theunlimited | Poetry | A LOVE LETTER: PISANTHROPHOBIA |
| @fycee | Personal life: Kindness to animals | Cartoons For The 80's Kiddos – A Dog Of Flanders |
| @futurefarmers | Personal life | Proof of Tears – Ate Sally in the Blockchain |
| @ismesikero | Art: drawing | Mega Drawing Competition: Blaze |
| @elenzy | Art: drawing | MY @TEARDROPS ARTWORK |
| @sisay12 | singsong | My Entry for @Surpassinggoogle's untalented-singsong |
| @lynbabe10 | Personal life | ONCE a FRIEND, NOW an ENEMY |
| @lynrogan | Personal life | I Found Love In Steemit @lynrogan |
| @artjay | Photography | Ripped Curtain Mobile Photography |
| @cutiefaty | Personal life-love | Love |
| @vonnaputra | Poetry | #Black sky |
| @jerelyn | Life | STUDENT'S JOURNEY-COLLEGE LIFE |
| @marpa | Animated cartoon | La doble cara del pan |
| @sugarrainbow | Personal Life : She is now the mother of a beautiful baby | A Proof of REWARD From TEARDROPS |
| @tolustx | Blog: Tears-Biochemistry | THE CHEMISTRY OF TEAR DROPS |
| @ruby06 | Life: Drawing | A very talented Student of mine |
---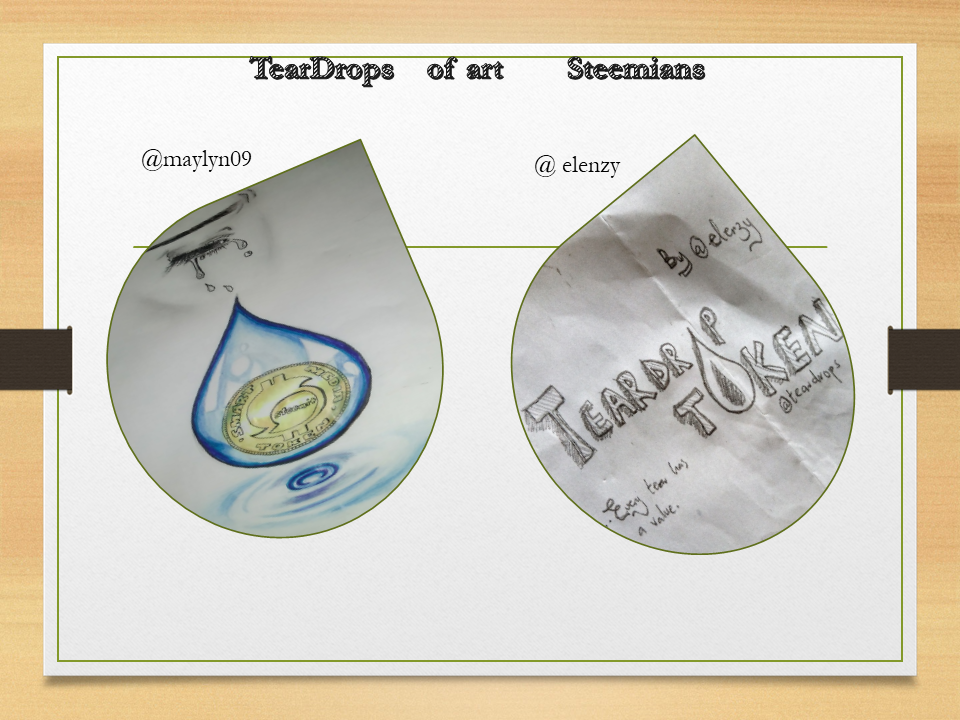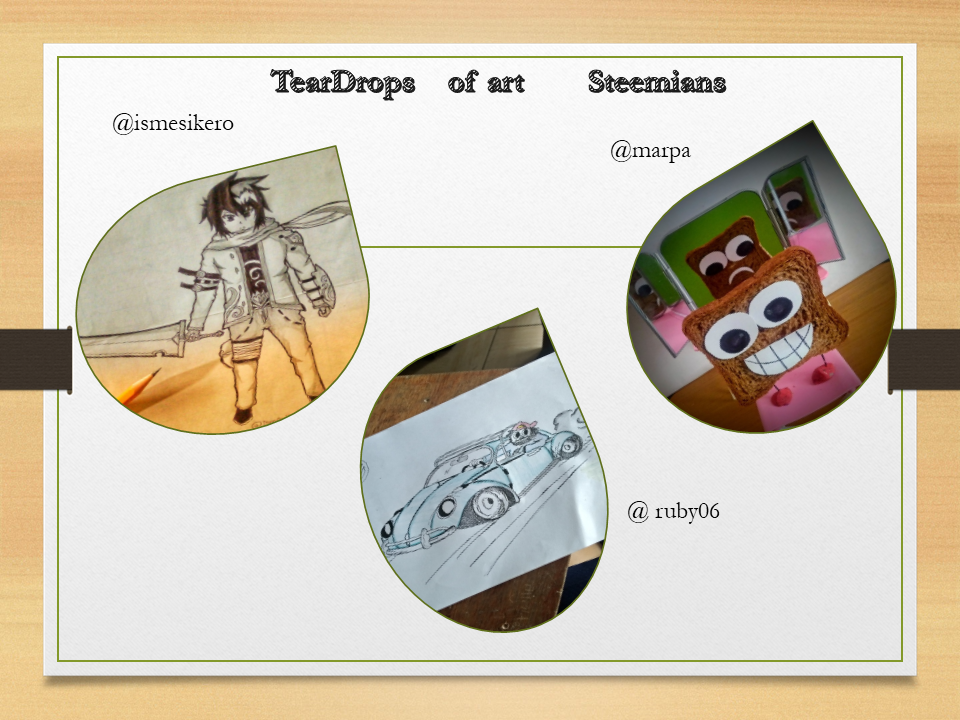 Again:
Please visit some of these publications and check the posts of other users on the tag #teardrops, because there will always be someone there who needs your help, a hug, a kind word, a voice of encouragement.
Your Boy Terry
@surpassinggoogle
Please like @teardrops on Facebook and Twitter:
https://www.facebook.com/teardropstokens/
https://twitter.com/teardropstokens
I do need strength
Dedicating My Entire Steem/Steemit Journey To My Mum
If you want to support an extra witness and you support mine "steemgigs", it will be really helpful. I run a full public RPC 256 GB node as well to balance the steem ecosystem on "wss://steemd.steemgigs.org".
To vote my witness, simply visit https://steemit.com/~witnesses and type in "steemgigs" into the first search box for witnesses or simply click Here to do it on one click!
If you want me to make witness voting decisions on your behalf, simply visit https://steemit.com/~witnesses and type in "surpassinggoogle" in the second box for proxy.
Let's Go!!!
Offer a service under hashtag "steemgigs". Attempt out-of-the-boxness on hashtag (untalented).Join the Steemgigs Community on discord: https://discord.gg/CGuPyyT
Everyone has something to offer! ¿Why not?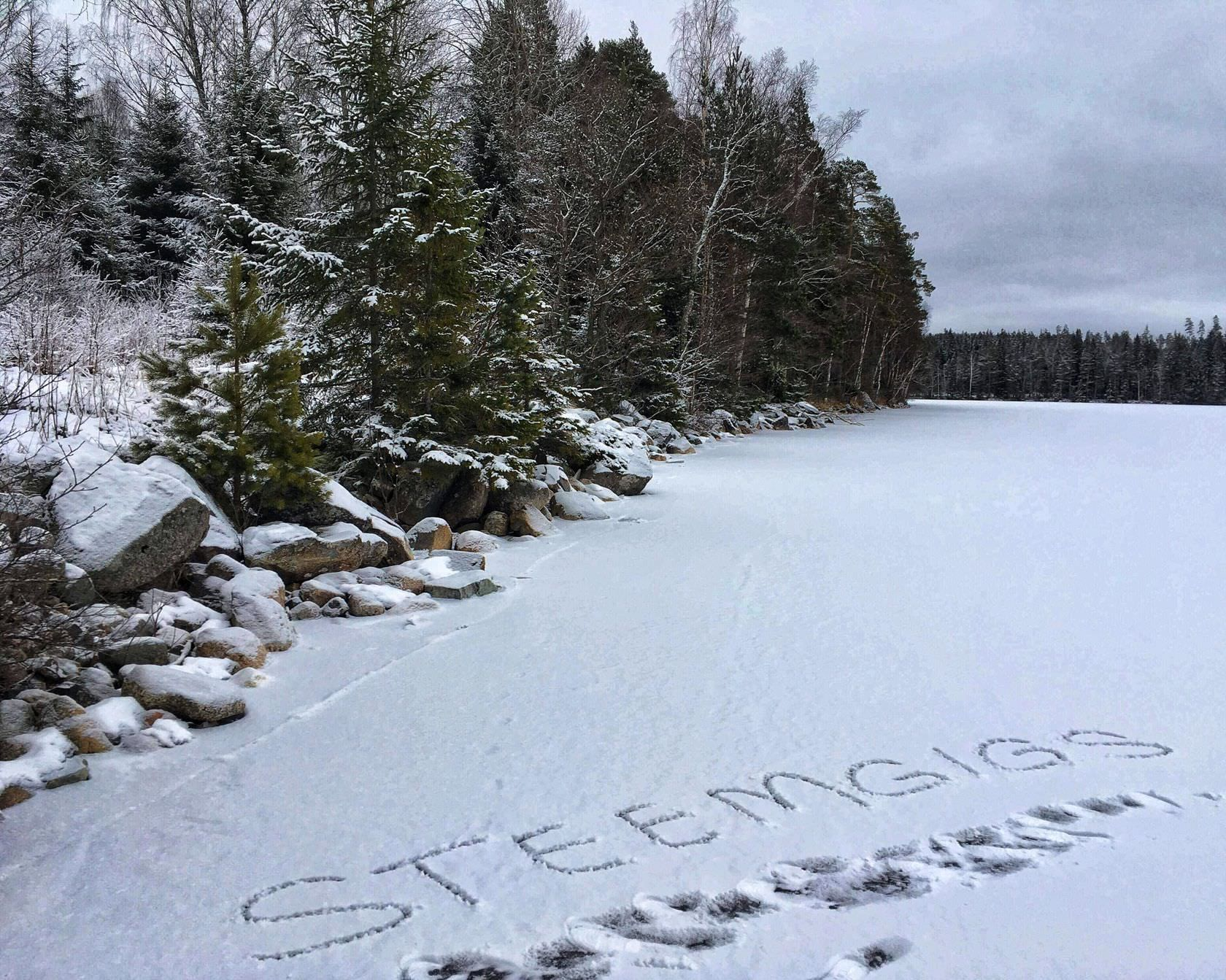 Read the 59 beautiful human comments accrued for this post by clicking HERE. It was originally posted by me on the social platform for uloggers globally on https://ulogs.org
Please subscribe to TeardropsTV and UloggersTV on YouTube for incessant video content from beautiful humans from all the across the globe.
You can support the furtherance of our cause:
To send me FIAT with debit/credit card click HERE
My PayPal email: '[email protected]'