"Tears" have always ever been a symbol of human and drops of it is always created from a place of beauty

I know how many tears i have teared and i know how many tears you have teared and just how many tears humanity has teared and good or not-so-good tears should have value because in reality they do/did, for Jehovah keeps these tears in a skin-bottle at the very least.

@teardrops didn't just start
It is historical history, that an imaginary coin (smart media token) is already hitting the exchanges. Hahaha, [email protected]; "you and me".

@teardrops is still an imaginary smart media token but my precious brothers and swities here on steemit are valuing it and loving it and loving me in return and exchanging and i tell you, this is historical. It is a beauty to watch!

The @teardrops colorlesspaper is filling up quickly and gosh, no "black or white" involved; just "human". It is historical.

With @teardrops SMT, we will evolve something that restores special value to every and each tear drop. We will be able to use @teardrops tokens to dry up many tears and perhaps, replace them with a new breed of tears: we will add more "tears of joy".
The Curation: A Tear Now Has Value # 11
#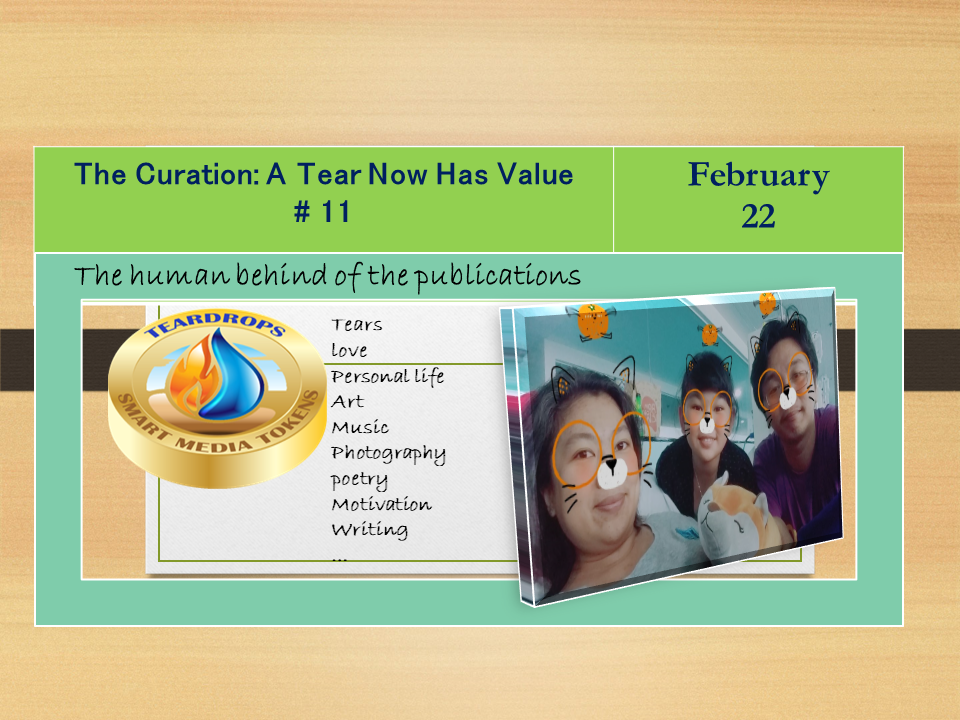 Welcome to the edition The curation A Tear Now Has Value # 11, in this edition, 38 wonderful Steemians are rewarded with extra exposure and ascending votes to create inspiration and add tears of enjoyment.
The human curator presents to:
#
| Author | Description | Post |
| --- | --- | --- |
| @teamreyes | Life: " Mama Reyes has End Stage Renal Disease and is required to go through dialysis thrice weekly. Yesterday, the Reyes squad was in complete attendance at the hospital. This made Mama really happy!" She is our cover image. | Bantay Nanay 143 |
| @iyanpol12 | Life: he is a wonderful steemians: "Lots of stories have I read using #teardrops, and a lot of them were tearjerking. It's like watching a drama anthology program (a-la MMK) while reading stories. Good enough, I knew some members who are comedic but their stories are dramatic. " | Talking About Teardrops |
| @lebron2016 | Writing: "Music and art are always connected and both relatable by doing the basic principles. The relevant rule is when the painter and composer led by their own principle of rhythm. The repetition of the song's melody can achieve the tune. In art, music can likewise be created if reproducing the lines, hues, and shapes." | RHYTHM IN CUT AND PASTE |
| @corrineflores19 | Introduceyourself: "Hello Everyone! I am Corrine Marie C. Flores and I hope to have a goodtime here in Steemit and i'm looking forward in meeting new people with the help of this website! Kudos! " | once upon a time, there was ME (an introduction) |
| @opeyemioguns | Life: Who knows the cause of this one Drive. This injured me fatally. He was killed time he wanted to start enjoying his life Wicked world!" | I miss him |
| @jangrace004 | Life: "One day when i was in grade five, I had no homework.My teacher was annoyed but little did she know i had spent the night with my mother in a hotel because the order of protection against my father yet to come through.I felt as if i where drowning in an ocean of tears." | TEARDROPS : STORM |
| @sbamsoneu | Writing : "Morals: In life, we're faced with countless decisions to make in life and by so doing we spend almost all our lives picking the most suitable one that best fit us. But deep down, we've an inbuilt talent that most times we fail to recognize probably because we see it as irrelevant talent compared to others and we bury it in search of other jobs." | LIFE'S DECISION |
| @olawalium | Life: "The moment i saw our Reverend and other people, around past 8pm, approaching the gate (because i was at the balcony, waiting to see her walk in), i knew she was gone. I cried so much before they came that there was no tears left, so when they came, i just kept mute, listened to them, and left them all at the sitting room. " | Tear Drops: Mum. |
| @ruby06 | Life: "I was guarding my lolo. He just died last sunday. Since Im not yet sleepy I made a poem for my beloved lolo…" | Goodbye my dear Lolo 🙁 |
| @desmonddesk | Life: Birthday of a cute child Jovanni Oluwa Toyosi. | Birthday Alert of An African Child |
| @marjorieposter | Life: "Her kid got stumbled on the floor cause of playing too much and his right arm cannot normally move.." | My Steemit Diversify mentor @antonette needs financial assistance for her son medication |
| @antonette | "Bastat may steemit ay may pag asa Salamat sa mga tumulong at nagbigay ng donasyon Lalong lalo na ky sir @iwrite na maasahan aa oras ng iyong pangagailangan kaibigang tunay na maasahan." | Konting Tiis Nalang Anak |
| @msswaggerfuck | Life: "I don't want to act negativily but seeing her in that way I felt I'm nothing to her, I can't help her. I research about the symptoms of bone cancer and all are match. Last night she texted me while I'm playing 4pics." | Teardrops |
| @yanzel4lyf | Life: "Thanks to @STEEMIT! I was able to buy milk, medicine and other goods for my family. This platform is really such a blessing." | A Thankful Heart: @Teardrops for STEEMIT *My First Ever Pay-Out |
| @vonnaputra | Poetry | Poetry to give support @surpassinggoogle |
| @imran498 | Blog: "Love is only exist on trust, Due to which we can only love someone when we trust on him. One could naturally love someone but trust is core element to maintain the love for life. Relationships that are not built in trust are not made to survive long time." | To Be Trusted is Better Than To Be Loved |
| @missdonna | Life: Video of the marriage proposal | "Dreams Do Come True" Proposal at the Highest Mountain Peak in UAE |
| @ramazani | Writing: Reflection | Motivation Life#Water droplets that pierce the stone |
| @haoma | Art digital: logo | TEARDROP LOGO |
| @cutirenskei | Photography | #ColourfulPhotography: " Colourful Chandeleir " |
| @alale | Writing | Mama's Letter to Mama |
| @amliv08 | Poetry | A mothers love |
| @febradaytamarra | Poetry | My Mum! In Thousands Miles (poetry-lonely) |
| @jummieecutie | Writing: "The music of GOD never ends, only the dancers get tired." | DAILY DOSE |
| @chiboyzz | Art: Drawing logo | MY PROPOSED TEARDROP SMART TOKEN LOGO |
| @janemorane | Art: Drawing logo | TearDrops Token ( proof of tears) |
| @steemit-fairy | Art: Digital logo | Teardrop Media Token Logo -1 |
| @jetto | Art: Drawing logo | Proposed logo for @surpassinggoogle teardrops blogle |
| @kul0tzzz | Blog: Benefits of crying | The Beautiful Cry |
| @jonnahmatias1016 | Photography | Behind the Scene: Beautiful Cloud Snap at CPA |
| @shikika | Steemit: support for the new steemians | Continues! Let's Give Hopes and Supports To The New Comers! |
| @phoebedoll | Photography | CAPILLA STA. ANA |
| @joeysison | Poetry | DISCONNECT TO CONNECT – A POEM FOR THOSE CONSUMED BY SOCIAL MEDIA |
| @sky2sky | Poetry | Teardrop # # Original Poem From Me For You |
| @deemmosqueda | Art: drawing logo | MY REALISTIC DRAWINGS |
| @ranfa | Life: Flowers-love | Flowers |
| @jhannah | Introduceyourself "I am Jhannah Aileen Fuentes and I am a future communicator. I am 23 and wishes to be younger than my looks hehehe. I am living here in the Philippines, Cagayan de Oro City to be exact" | Self Introduction |
| @zoeroces | Art : drawing | Drawitbetter Contest #15 Pokemon Fennekin |
---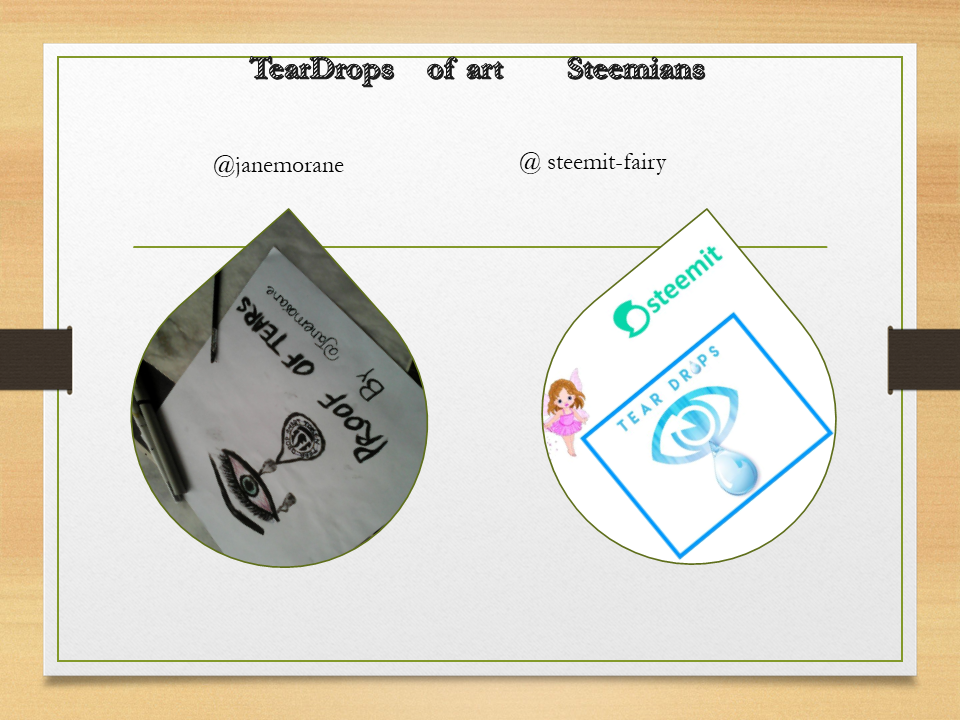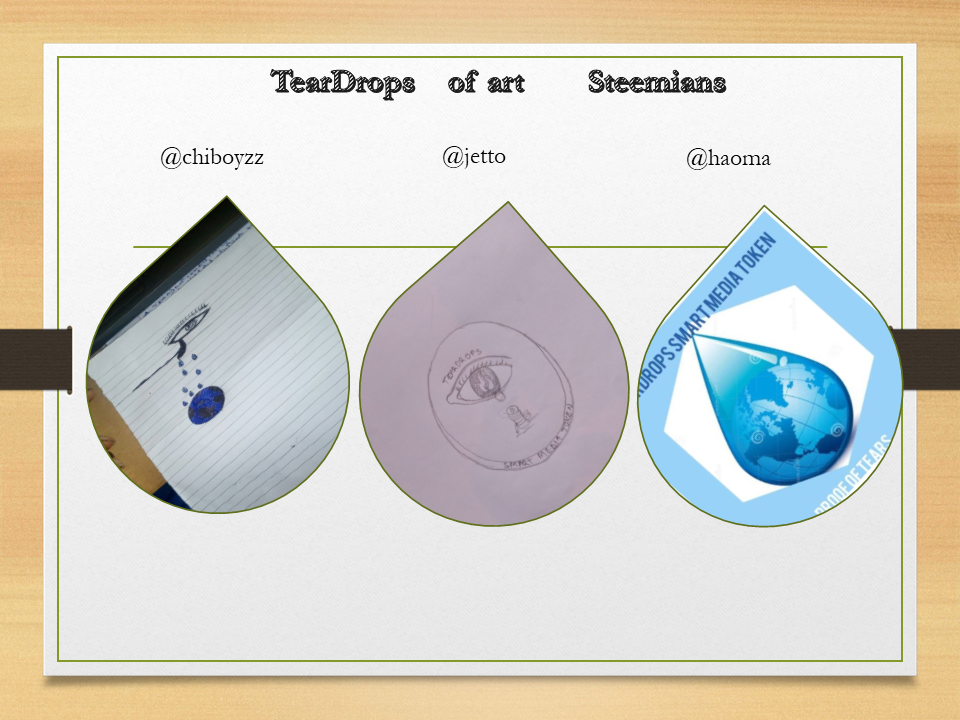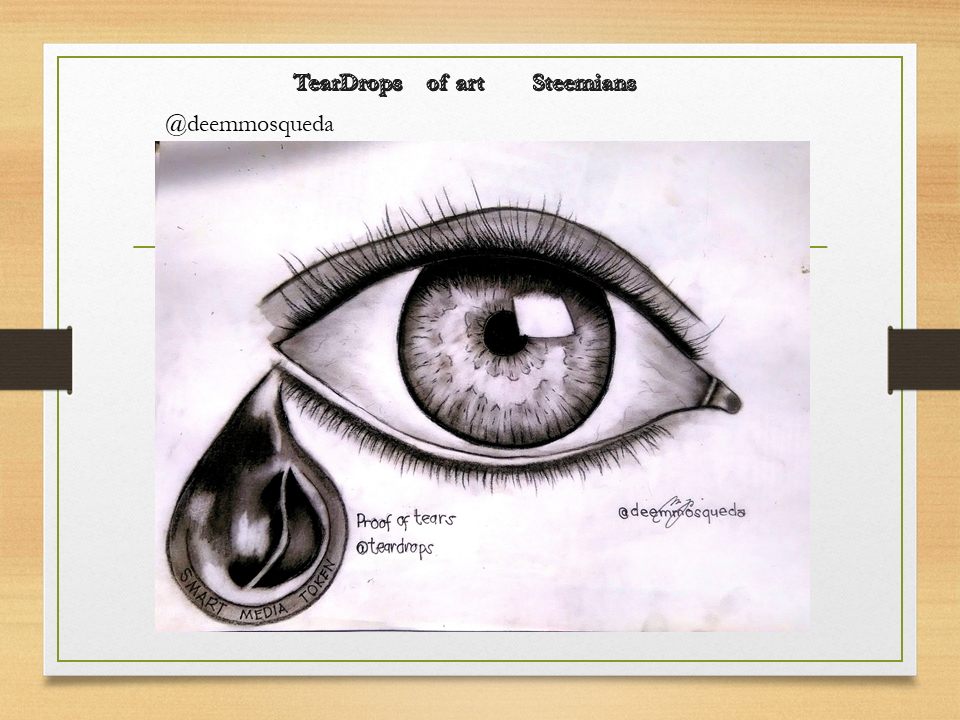 ---
Again:
Please visit some of these publications and check the posts of other users on the tag #teardrops, because there will always be someone there who needs your help, a hug, a kind word, a voice of encouragement.
Your Boy Terry
@surpassinggoogle
Please like @teardrops on Facebook and Twitter:
https://www.facebook.com/teardropstokens/
https://twitter.com/teardropstokens
I do need strength
If you want to support an extra witness and you support mine "steemgigs", it will be really helpful. I run a full public RPC 256 GB node as well to balance the steem ecosystem on "wss://steemd.steemgigs.org"
To vote my witness, simply visit https://steemit.com/~witnesses and type in "steemgigs" into the first search box for witnesses or simply click Here to do it on one click!

If you want me to make witness voting decisions on your behalf, simply visit https://steemit.com/~witnesses and type in "surpassinggoogle" in the second box for proxy.
Let's Go!!!
Offer a service under hashtag "steemgigs". Attempt out-of-the-boxness on hashtag (untalented).Join the Steemgigs Community on discord: https://discord.gg/CGuPyyT
Everyone has something to offer! ¿Why not?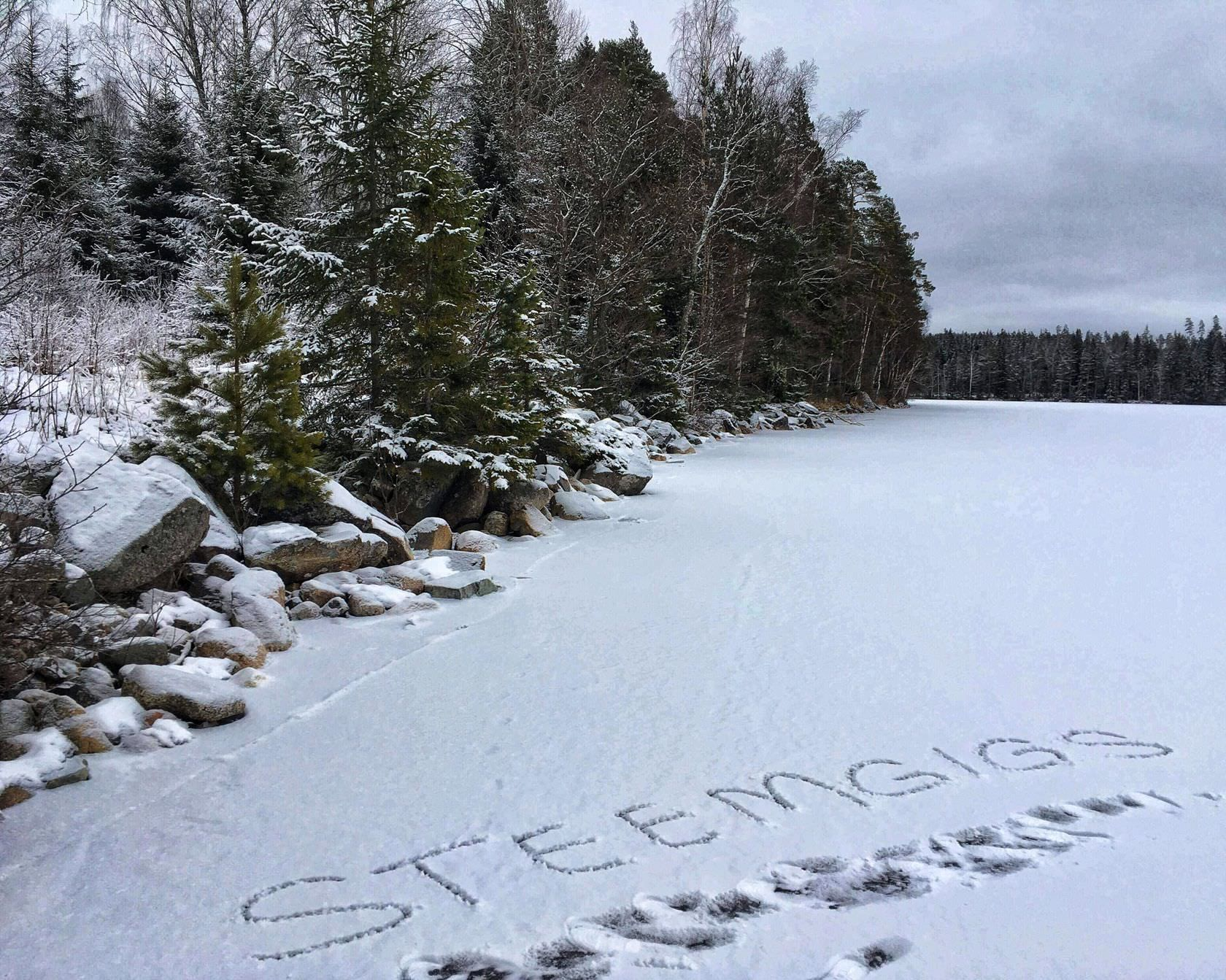 Read the 145 beautiful human comments accrued for this post by clicking HERE. It was originally posted by me on the social platform for uloggers globally on https://ulogs.org
Please subscribe to TeardropsTV and UloggersTV on YouTube for incessant video content from beautiful humans from all the across the globe.
You can support the furtherance of our cause:
To send me FIAT with debit/credit card click HERE
My PayPal email: '[email protected]'