"Tears" have always ever been a symbol of human and drops of it is always created from a place of beauty

I know how many tears i have teared and i know how many tears you have teared and just how many tears humanity has teared and good or not-so-good tears should have value because in reality they do/did, for Jehovah keeps these tears in a skin-bottle at the very least.

@teardrops didn't just start
It is historical history, that an imaginary coin (smart media token) is already hitting the exchanges. Hahaha, [email protected]; "you and me".

@teardrops is still an imaginary smart media token but my precious brothers and swities here on steemit are valuing it and loving it and loving me in return and exchanging and i tell you, this is historical. It is a beauty to watch!

The @teardrops colorlesspaper is filling up quickly and gosh, no "black or white" involved; just "human". It is historical.

With @teardrops SMT, we will evolve something that restores special value to every and each tear drop. We will be able to use @teardrops tokens to dry up many tears and perhaps, replace them with a new breed of tears: we will add more "tears of joy".
The Curation: A Tear Now Has Value # 13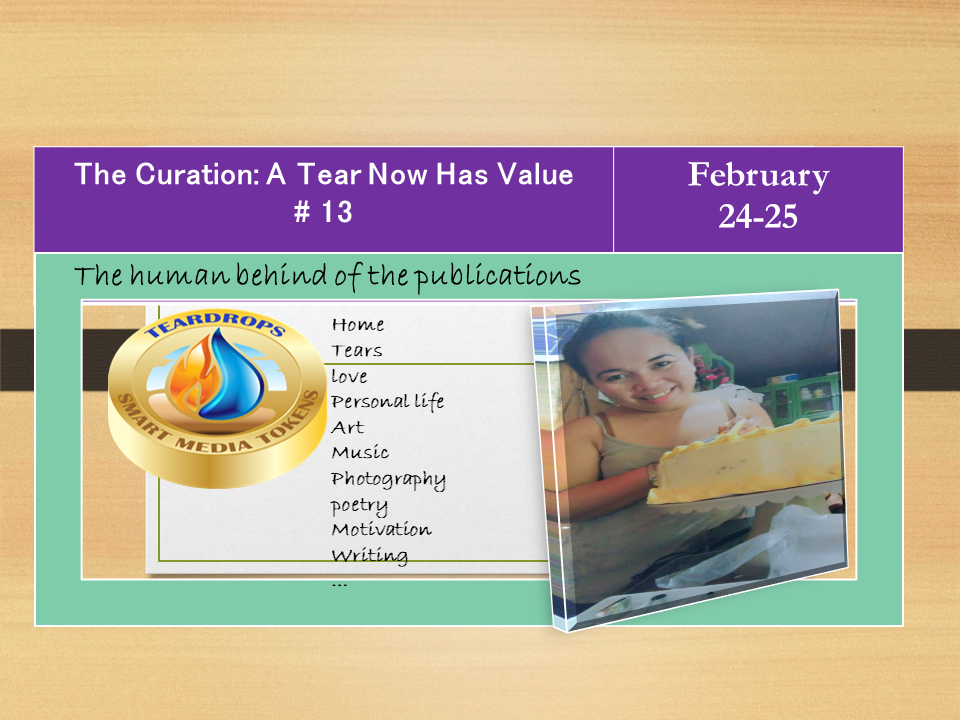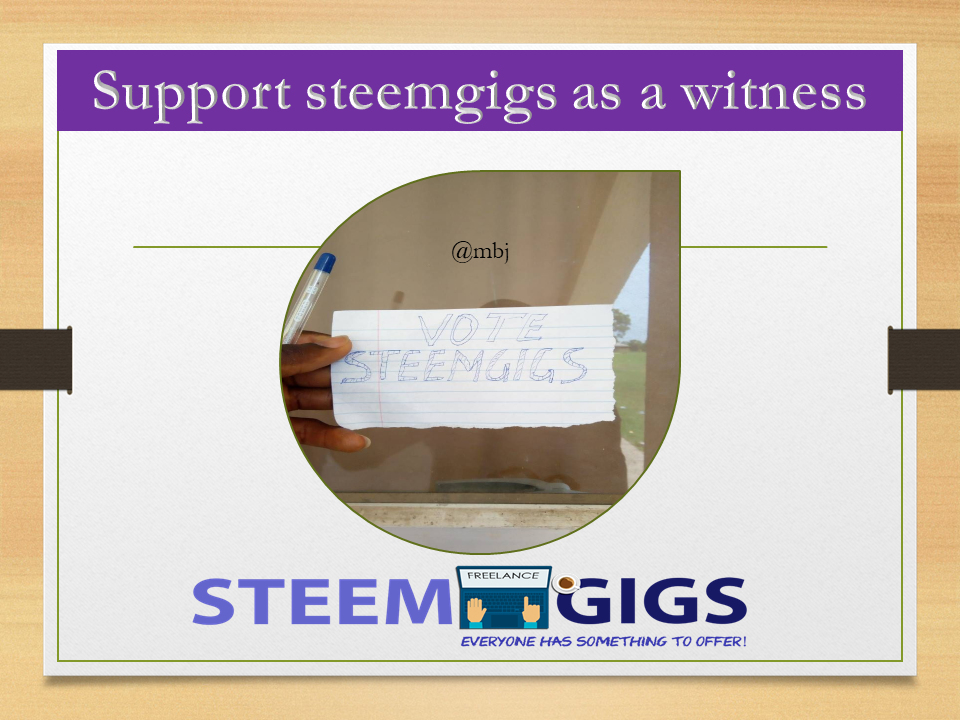 Welcome to the edition The curation A Tear Now Has Value # 13, in this edition, 30 wonderful Steemians are rewarded with extra exposure and ascending votes to create inspiration and add tears of enjoyment.
Author
Description
Post
@joanderit
Home: Cake decorating- Cover image
My DIY project: Cake Icing Decorations
@chillinph
Writing Steemit: "We all have something we are passionate about, talk about it. Do not post anything under the sun, that you cannot explain. Please do not post something you just get somewhere, and revised it a little so as not to look like the same article. Most of the time, the contents become too technical, readers may not understand.."
Is Steemit For You?
@lolitz
"But am just wander, do I qualify as one of the steemians?I dont still understand what, how and when am become one of them?"
Questions in my mind?
@greatwarrior79
Life: "I thought the man that i live within will renew his ways of life,because we have a baby..but i was wrong,when he going home,he beat me,kick me and sometimes he wants to kill me..! He is drug addict…
The precious gift to me…
@coderzairos
Writing: "I'm sorry Ella. I didn't mean to hurt you, its just that I was not mentally prepared that time. Sorry for making this stupid reasoning, I just want you to know how I regret the things I have done in the past. You've once said that I have chosen the right decision back then, because we are friends now. "
Is it a Love Letter? Its for you to decide, but its for you
@theunlimited
Personal Life-Cartoon : "¿What if seeds didn't know that they had to be dowsed in water for their greater purpose?"
WHAT IS YOUR PURPOSE?
[]( )
@rosstamarrz
Introduceyourself: " I am Ross Tamarra, a proud local Cebuano from Cebu City, Philippines, People known me as a poet, writer, a humour converser, concept maker, a leader and even gain the nickname of being a historical spot hunter."
Ross here from Cebu Philippines. Extend my steemit greetings..
@acandal20
Life
Teardrops smt token rewards: Ang Pagmamahal ng Isang Ina
@tamurah
Blog: History
5 Fascinating Stories of World War II
@shielashraf
Life-Drawing
TearDrops Token : Proof Of Tears
@akosimalai
Poetry
Poetry: "A Sad Story"
@crofak
Writing-Story
Tear Drops : Nightmare By Step Grandma
@smeet
Short story Essay
teardrops story Pendant Ungu Mila
@sanach
Drawing
MY Drawing of TEARDROP
@riskimauliza
History fiction
Cool night to accompany my loneliness and Sadness
@atongis
Photography
MONOMAD PHOTOGRAPHIC CHALLENGE – SATURDAY SILHOUETTES – AIRPLANE
@hazelalex
Art: Drawing-logo
Drwaing of Teardrops
@mbj
Photo documentary
My Photo Documentary for #STEEMGIGS
@phoebedoll
Photography
PHOTOGRAPHY – FIREWORKS
@kulkris
Art: Digital-Logo
PROPOSING TEARDROP LOGO
@sandyk
Art: Digital-logo
PROPOSING TEARDROP LOGO
@cardova
Writing
teardrops : Prince of Dreams
@benchcarr
Poetry
Mother, Thank you" -Poem
@adamada
Art: drawing
Teardrop Media Token Logo
@alies2
Art: Drawing
The art of painting droplets of tears
@magdasierra
Photography
Purple – Grapes.
@lifeofdarlington
Photography
I present this image to the TEARDROPS TOKEN
@evoll
Life
I cried over my Financial fall..too hard to lose
@hiddenblade
Art: painting
Drawing a Portrait Using Oil Pastels
@juanzcorpion
Art: Drawing
Portrait of Emma Watson
---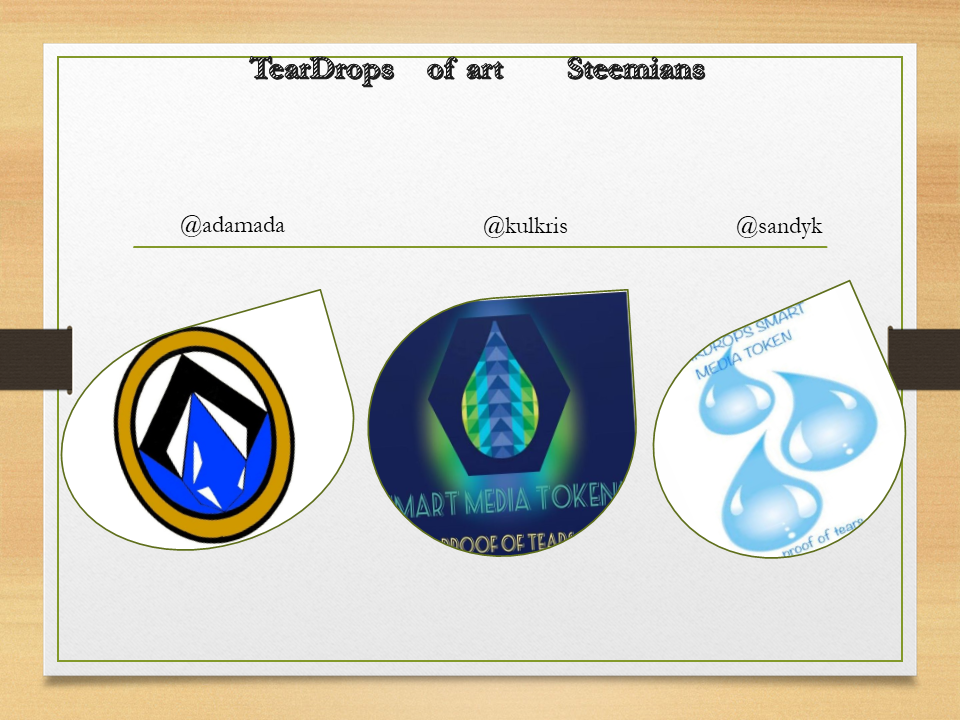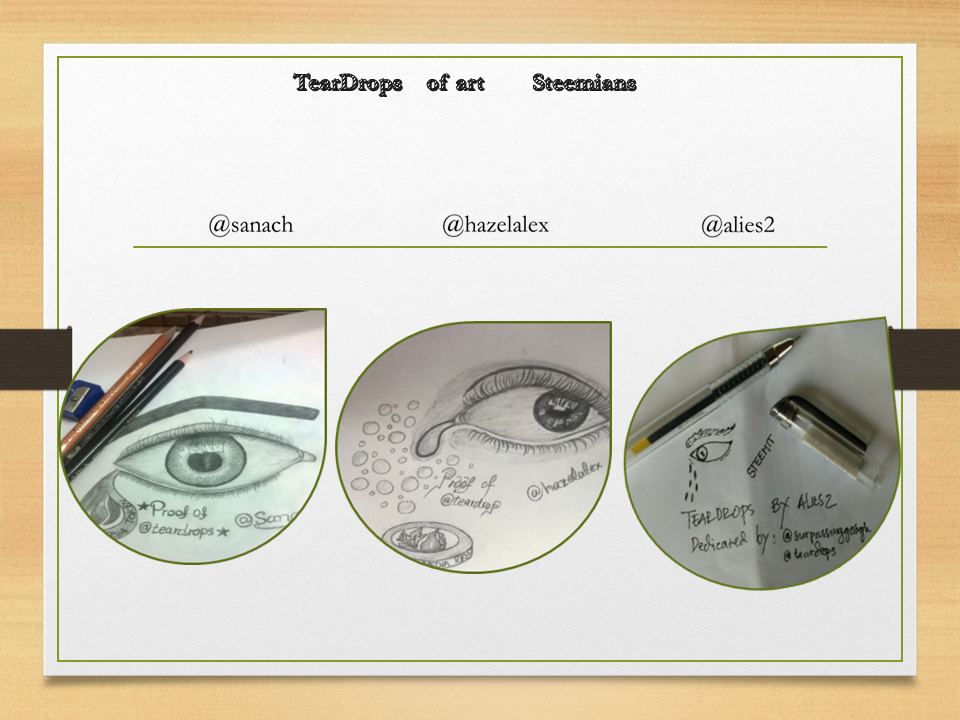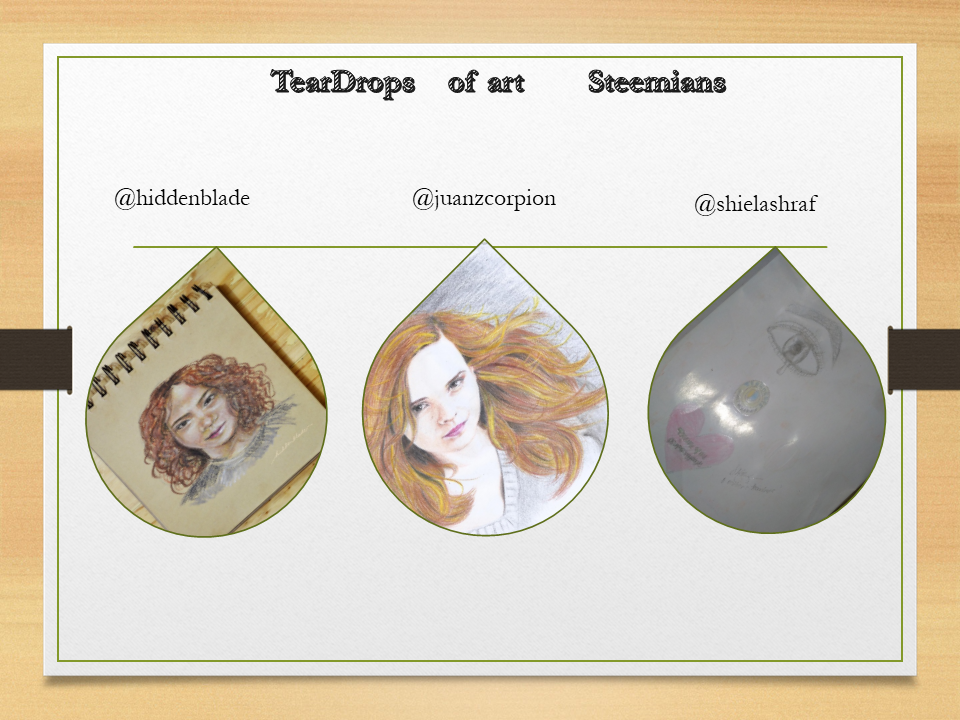 ---
Again:
Please visit some of these publications and check the posts of other users on the tag #teardrops, because there will always be someone there who needs your help, a hug, a kind word, a voice of encouragement.
Your Boy Terry
@surpassinggoogle
Please like @teardrops on Facebook and Twitter:
https://www.facebook.com/teardropstokens/
https://twitter.com/teardropstokens
I do need strength
If you want to support an extra witness and you support mine "steemgigs", it will be really helpful. I run a full public RPC 256 GB node as well to balance the steem ecosystem on "wss://steemd.steemgigs.org"
To vote my witness, simply visit https://steemit.com/~witnesses and type in "steemgigs" into the first search box for witnesses or simply click Here to do it on one click!

If you want me to make witness voting decisions on your behalf, simply visit https://steemit.com/~witnesses and type in "surpassinggoogle" in the second box for proxy.
Let's Go!!!
Offer a service under hashtag "steemgigs". Attempt out-of-the-boxness on hashtag (untalented).Join the Steemgigs Community on discord: https://discord.gg/CGuPyyT
Everyone has something to offer! ¿Why not?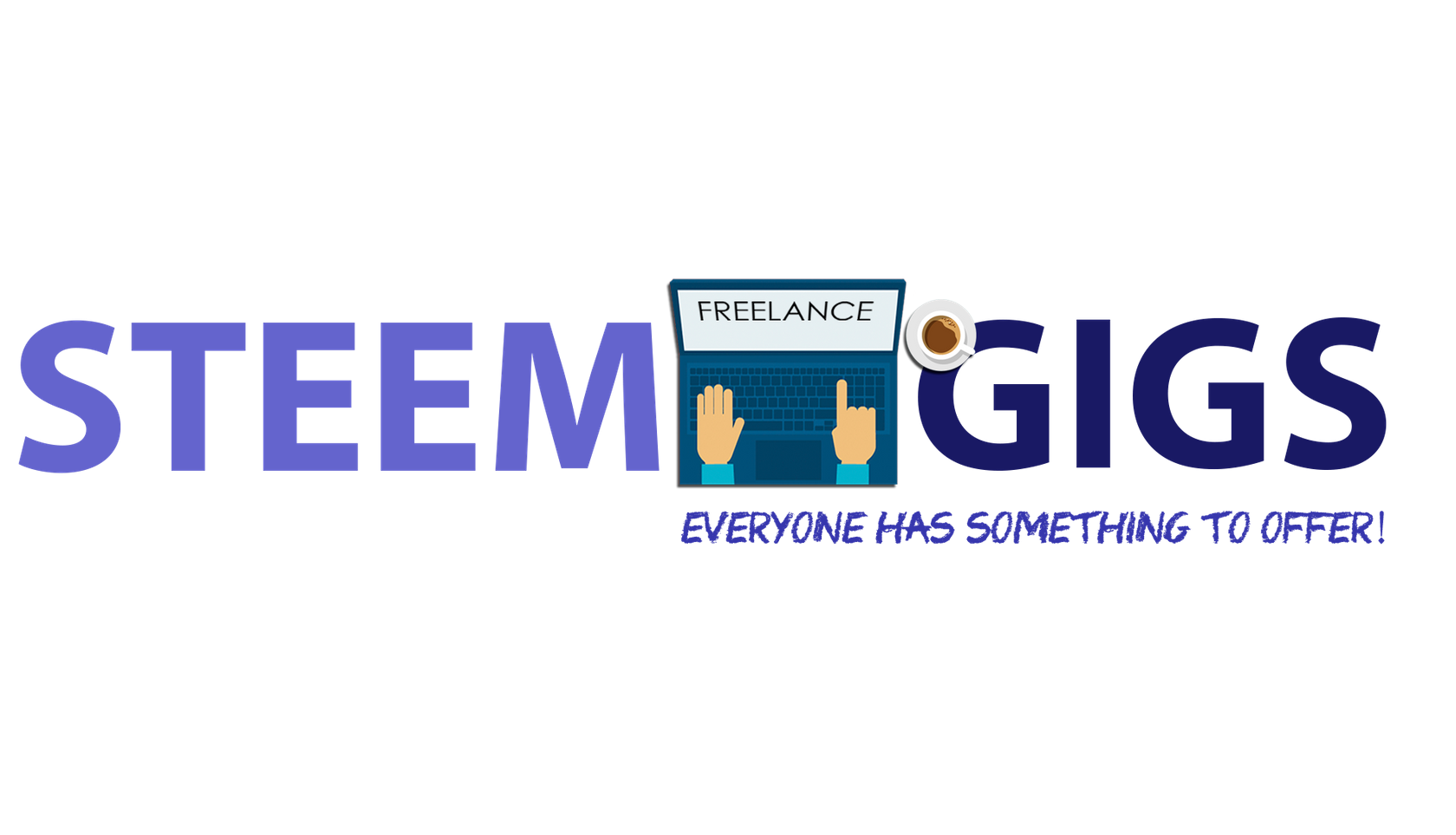 Read the 135 beautiful human comments accrued for this post by clicking HERE. It was originally posted by me on the social platform for uloggers globally on https://ulogs.org
Please subscribe to TeardropsTV and UloggersTV on YouTube for incessant video content from beautiful humans from all the across the globe.
You can support the furtherance of our cause:
To send me FIAT with debit/credit card click HERE
My PayPal email: '[email protected]'