My witness name is "steemgigs".
Many have a bit of confusion when attempting to vote for my witness and tend to put in "surpassinggoogle" in the witness box.
I knew this was likely to happen from the very beginning. Yes, @surpassinggoogle is the more popular of both accounts but i wanted my witness (steemgigs) to represent things bigger than me; "us!"

You can still support my witness by clicking HERE and typing the word "steemgigs" into the first box for witnesses.
If you would like me to chose steemit witnesses on your behalf, simply type in the word "surpassinggoogle" into the second box HERE

"Tears" have always ever been a symbol of human and drops of it is always created from a place of beauty

I know how many tears i have teared and i know how many tears you have teared and just how many tears humanity has teared and good or not-so-good tears should have value because in reality they do/did, for Jehovah keeps these tears in a skin-bottle at the very least.

@teardrops didn't just start
It is historical history, that an imaginary coin (smart media token) is already hitting the exchanges. Hahaha, [email protected]; "you and me".

@teardrops is still an imaginary smart media token but my precious brothers and swities here on steemit are valuing it and loving it and loving me in return and exchanging and i tell you, this is historical. It is a beauty to watch!

The @teardrops colorlesspaper is filling up quickly and gosh, no "black or white" involved; just "human". It is historical.

With @teardrops SMT, we will evolve something that restores special value to every and each tear drop. We will be able to use @teardrops tokens to dry up many tears and perhaps, replace them with a new breed of tears: we will add more "tears of joy".
The Curation: A Tear Now Has Value # 26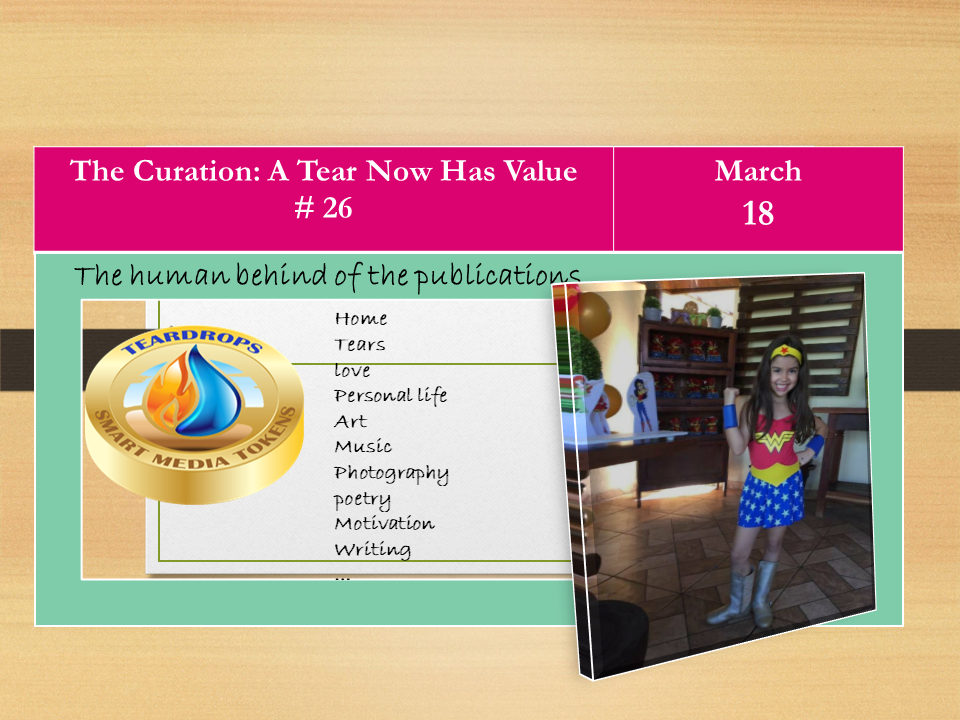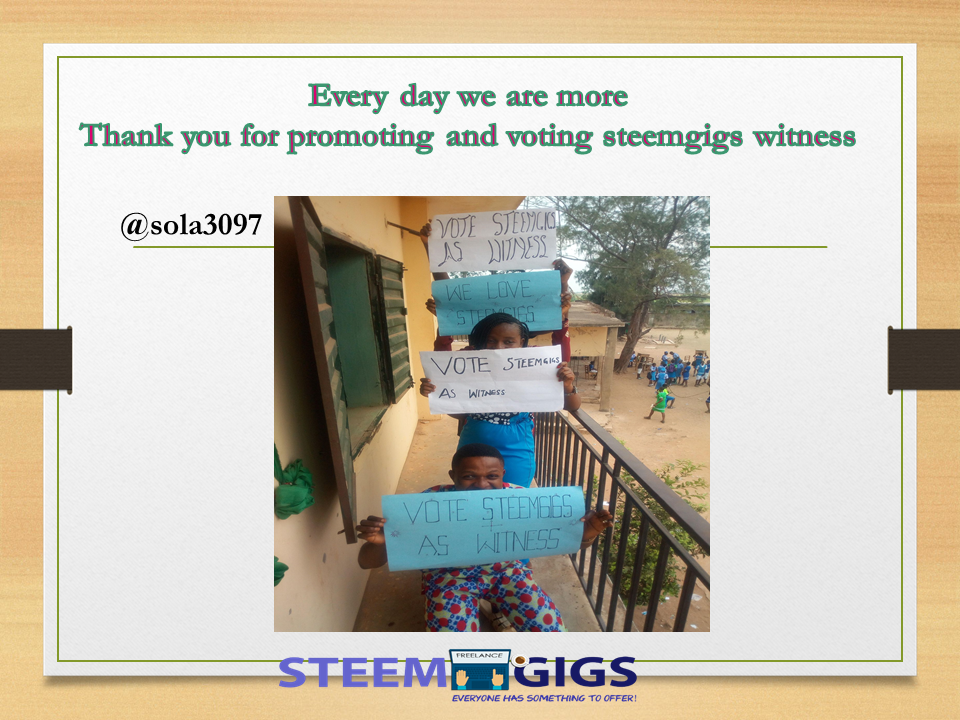 Welcome to the edition The curation A Tear Now Has Value # 26, in this edition, 30 wonderful Steemians are rewarded with extra exposure shared through our account, and ascending votes to create inspiration and add tears of enjoyment.
| Author | Description | Post |
| --- | --- | --- |
| @julietsilvia | Life: Her daughter "grew older" and she is grateful to have this blessing of sharing wonderful moments with her most precious flower from her garden of life. Our cover image. | HAPPY BIRTHDAY MY PRINCESS |
| @sola3097 | Life: He shares his joy, tells us that with the profits he has earned since joining steemit, two months ago, he managed to pay off some debts, and he has also managed to improve his writing. | My First Earning on Steemit |
| @wakkylyon | Life: she shares how she manages to change a gray day for a colorful day through mental phase change therapy. | The "Mental Phase Switch" Therapy. |
| @gamsam | Steemit: Here you will find the activities carried out by a Nigerian community group, which seeks to promote steemit, educate and encourage the new steemians. One of the topics discussed during the activity is the importance of creating original content and the consequences of plagiarism. | Highlights of the Steem9ja Meetup Nigeria – Part 2 |
| @atongis | Photography: food | #Dailyfoodphotography – Colourful Salad |
| @sweetcha | Life: She tells us of her tears of joy, even in her pain for the loss of her sons. The reason is the generosity and affection she receives from a family and expressions of affection from some friends she has made through social networks. A fragment: "Generosity is a kind of gesture can reach the wound that only compassion can heal. " | Tears of Joy for a Generous People |
| @philippinessteem | Life: She continues to fight against bone cancer, and updates her health status and is moved by the demonstrations of support from some steemians. | Fight bone cancer (update) |
| @vincent1990 | Life: He introduces us to his two adorable babies and tells us that they and his wife are the motor that moves him to achieve a better future for them. | Meet my 2 baby |
| @baby07 | Life:She loves her macotas and introduces us to three relaxed companions, a dog and two cats. She tells us that also has another dog, but this is not quiet. | My spoiled pets: powder sky and sofia |
| @blessedsteemer | Lfe: He shares moments of enjoyment, during the meeting with some friends steemians. | My co-steemians |
| @desmonddesk | Motivation: Here we find an interesting reflection about the worries and how to handle them, when they come to our mind. | TRICK TO AVOID WORRYING |
| @smylie2005 | Photography: Food | Dinner is served…. NOM!! |
| @jovema | Photography: Portrait | His first coloring book |
| @cookntell | Photography: Birds at the Manila Zoo | Birds in Manila Zoo: Travelling Philippines |
| @greatwarrior79 | Food: SIOMAI | I Love Philippines Streetfood#9 |
| @ruby06 | Poetry | Beautiful and Good are not same matters |
| @dinmark09 | Poetry | Poem [#5]: "Fade Away" – My teardrops … |
| @thidaratapple | Poetry | The Less I Understand" Teardrops of Sadness. |
| @nyaklah | Poetry | In thought |
| @vonnaputra | Poetry | Not romantic love poetry but sad love |
| @dzued | Art:He shares with us the drawing made his brother of 8 years. | LITTLE ARTIST BROTHER – |
| @veejay2312 | Poetry | "Reset" filipino poetry by veejay |
| @michellpiala | Poetry | 24 Hours A Day |
| @iamjeydii | Poetry | "Pagtatapos" |
| @caishierin | Drawing | DRAWING: BRING OUT THE BEST IN ME |
| @jona001 | Art digital: Teardrops | MY ADOBE ILLUSTRATOR DESIGN FOR THE TEARDROPS .. |
| @norkamoran | Art: Drawing teardrops | My illustration @teardrops @surpassinggoogle. My eyes! |
| @johnclyde12 | Drawing teardrops | My First and Simple Drawing for Teardrops |
| @jhaysnsonofbenz | Drawing teardrops | My TearDrops Illustration For @surpassinggoogle |
| @hengis341 | Drawing teardrops | My illustration @teardrops @surpassinggoogle. the eyes of my beloved |
---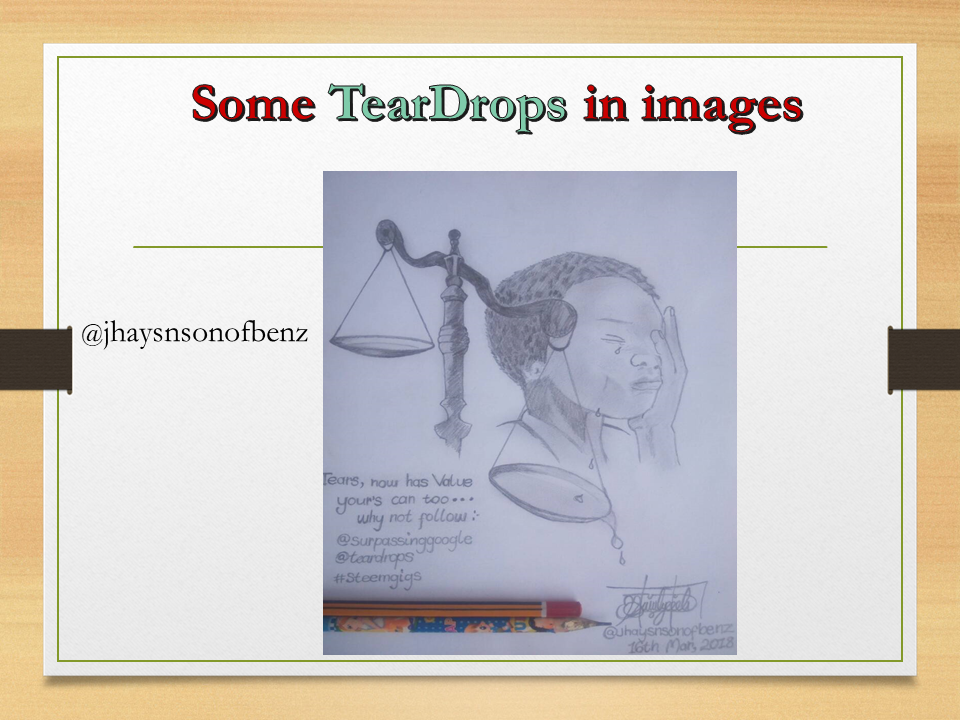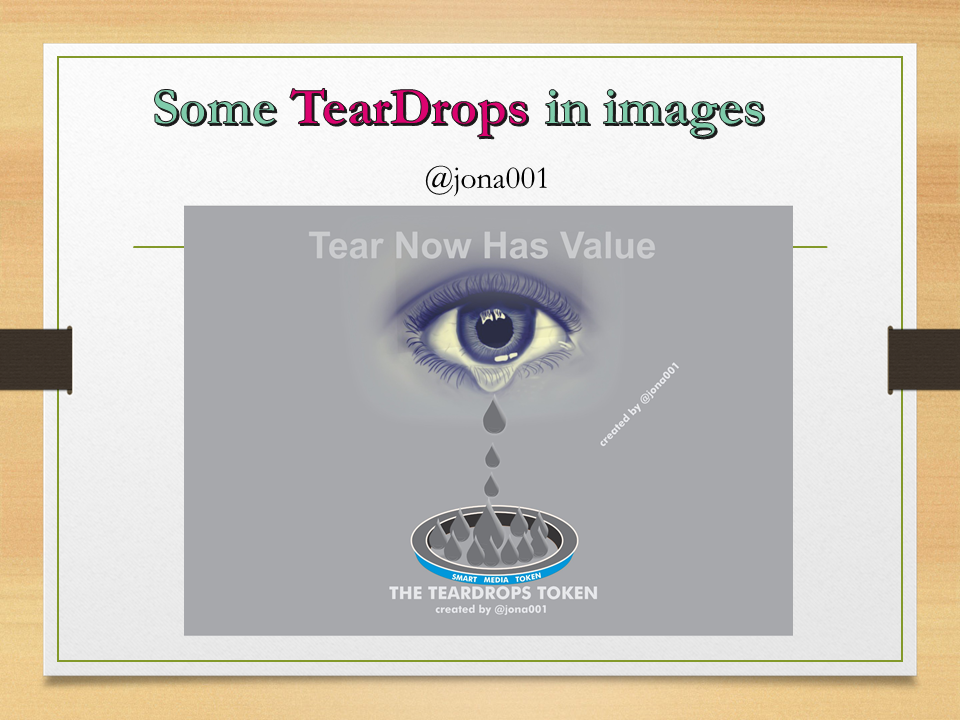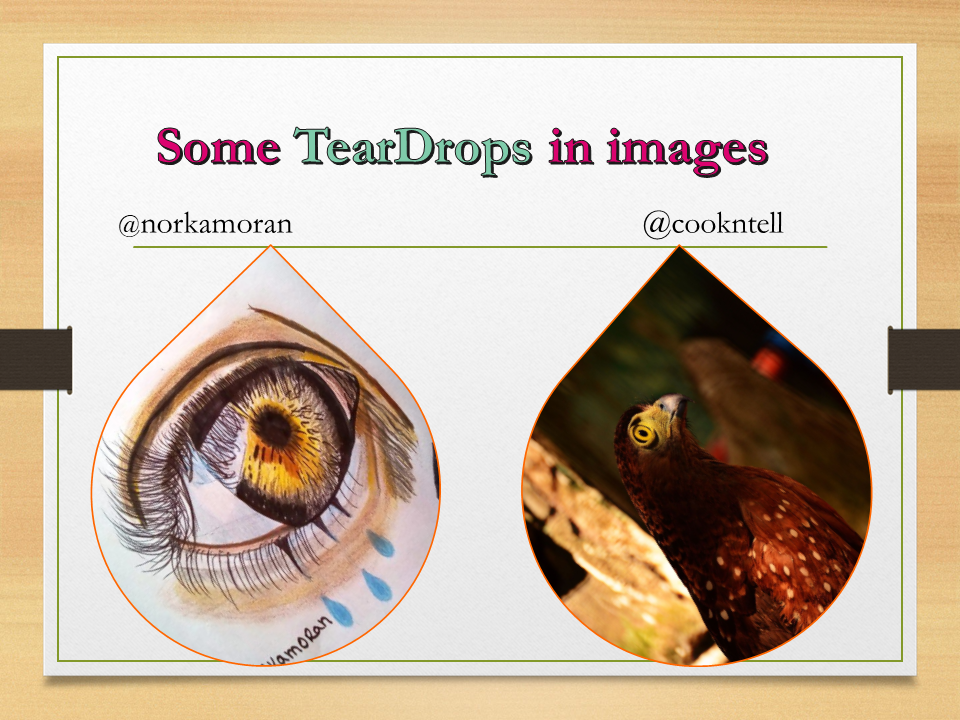 Please visit some of these publications shared from our account and interact with each other, there is always someone who needs your help, a voice of encouragement, a testimony of life to be heard, or you can enjoy a work of art, a poetry, a craft, a tutorial, an inspiring message, get a rare knowledge etc.
Your Boy Terry
@surpassinggoogle
Please like @teardrops on Facebook and Twitter:
https://www.facebook.com/teardropstokens/
https://twitter.com/teardropstokens
I do need strength
Dedicating My Entire Steem/Steemit Journey To My Mum
If you want to support an extra witness and you support mine "steemgigs", it will be really helpful. I run a full public RPC 256 GB node as well to balance the steem ecosystem on "wss://steemd.steemgigs.org"
To vote my witness, simply visit https://steemit.com/~witnesses and type in "steemgigs" into the first search box for witnesses or simply click Here and type in "steemgigs" to do it on one click!
If you want me to make witness voting decisions on your behalf, simply visit https://steemit.com/~witnesses and type in "surpassinggoogle" in the second box for proxy.
Let's Go!!!
Offer a service under hashtag "steemgigs". Attempt out-of-the-boxness on hashtag (untalented).Join the Steemgigs Community on discord: https://discord.gg/CGuPyyT
Everyone has something to offer! ¿Why not?