My witness name is "steemgigs".
Many have a bit of confusion when attempting to vote for my witness and tend to put in "surpassinggoogle" in the witness box.
I knew this was likely to happen from the very beginning. Yes, @surpassinggoogle is the more popular of both accounts but i wanted my witness (steemgigs) to represent things bigger than me; "us!"
You can still support my witness by clicking HERE and typing the word "steemgigs" into the first box for witnesses.
If you would like me to chose steemit witnesses on your behalf, simply type in the word "surpassinggoogle" into the second box HERE
"Tears" have always ever been a symbol of human and drops of it is always created from a place of beauty

I know how many tears i have teared and i know how many tears you have teared and just how many tears humanity has teared and good or not-so-good tears should have value because in reality they do/did, for Jehovah keeps these tears in a skin-bottle at the very least.

@teardrops didn't just start. It is historical history, that an imaginary coin (smart media token) is already hitting the exchanges. Hahaha, [email protected]; "you and me".

@teardrops is still an imaginary smart media token but my precious brothers and swities here on steemit are valuing it and loving it and loving me in return and exchanging and i tell you, this is historical. It is a beauty to watch!

The @teardrops colorlesspaper is filling up quickly and gosh, no "black or white" involved; just "human". It is historical.

With @teardrops SMT, we will evolve something that restores special value to every and each tear drop. We will be able to use @teardrops tokens to dry up many tears and perhaps, replace them with a new breed of tears: we will add more "tears of joy".
The Curation: A Tear Now Has Value # 28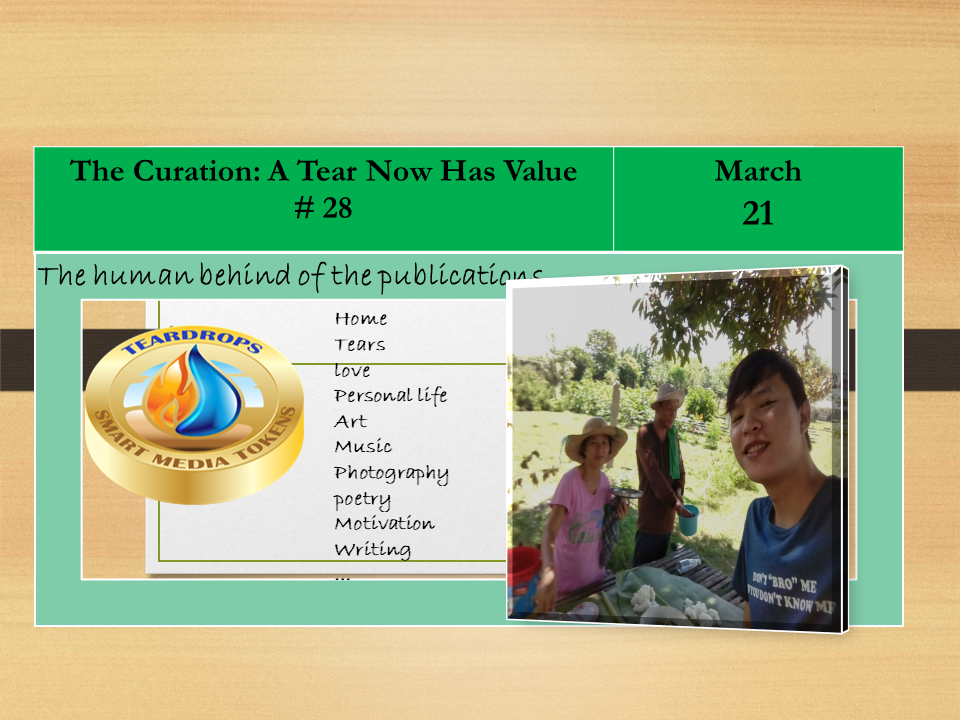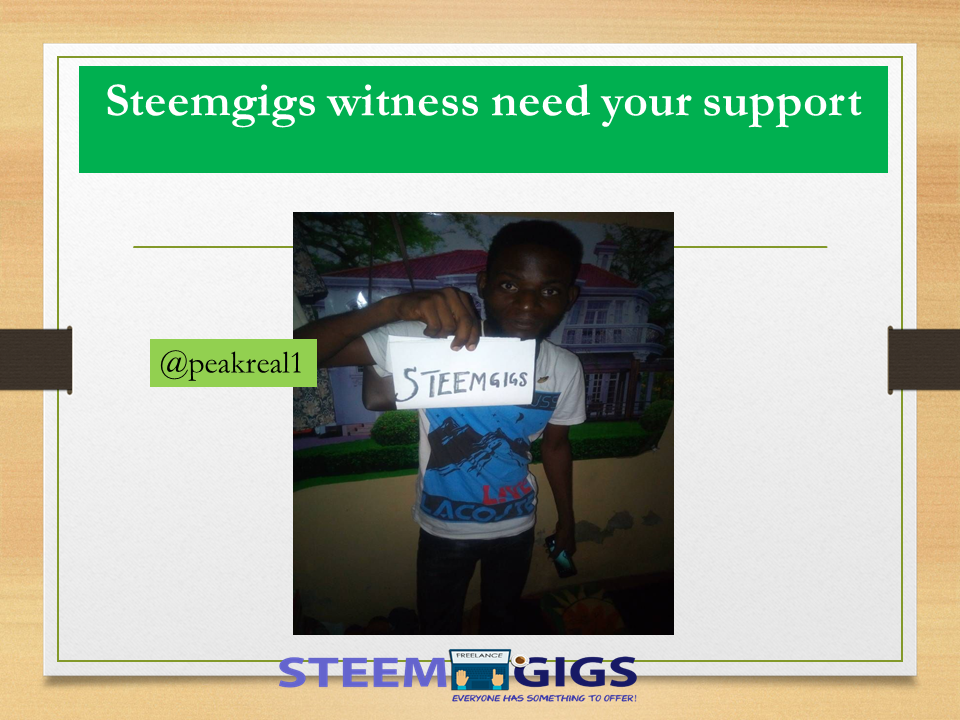 #
Welcome to the edition The curation A Tear Now Has Value # 28, in this edition, 30 wonderful Steemians are rewarded with extra exposure shared through our account, and ascending votes to create inspiration and add tears of enjoyment.
#
Author
Description
Post
@ismesikero
Life: This young student shares wonderful moments of life on the farm with his parents; while enjoying a home-flavored meal under the shade of a tree, prepared with the products harvested by his father and seasoned with the love of his mother.His father works hard in agriculture and his mother also embroiders bags for sale, to subsidize his education and he can realize his dreams of being a man of business and artist. That is why he will put all his effort here in steemit, because this is the way God has set him to achieve a better future for him and his family. Your family is the cover image today.
My Life and The Farm
@everythingnice
Life:He tells us that his mood is not going well now due he does not feel really loved and included by his circle of friends.
SHITS I HOLD WE'RE ALWAYS ALMOST FORGOTTEN
@shirleynpenalosa
Life:She is a mother of a small child, a woman who attends the housework and at the same time works from monday to friday outside the home. She is currently feeling exhausted, her sleep hours have been reduced and intermittent since she must attend to her mother, who needs special care due to her age. The love for her family and God keep her standing.
Wednesday Note to Self
@akoaypilipina
Life: She is a brilliant mother who is involved of the integral education of her daughter, contributing in this way to build a more tolerant world. She taught her daughter the value of apologizing and her daughter internalized and applied it.
Life Lesson: Grateful For My Daughter Who Learned The Power Of Apologizing
@ckadie1324
Life: She shares with us some beautiful pictures of the 10th grade students' party at St. Paul College of Makati, of which her beautiful daughter is part of this. The young people share with joy their last moments in group; moments of much laughter and also tears of mixed feelings.
@wondersofnature
Life: She is a wonderful steemians who shares her accomplishments during these 60 days of her steemit walk. Now she feels very inspired, and has started a project to help the new steemians and minnows with a free resteem service.
Looking back how I started and grow here in Steemit
@jaderpogi
Video: He presents his beatbox music inspired by the victims of fire located at Lapu-lapu City.
STEEMIT OPENMIC WEEK 77
@istillrise
Life: He is promoting steemit in his family, now his mother is here and will soon make his presentation, which is why he has made a drawing for her, alluding to his cooking skills.
I Made this kind of Steemit Art
@drueeey
Life
Craving satisfied!
@betbet
life
My Untalented Nieces so Kulit
@therainbow
Poetry
PATULOY NA UMIIKOT ANG MUNDO,..
@ahna8911
Poetry
Will Always Be My Sister
@lifeofdarlington
Writing
A heartbreaking experience – An encounter with an old friend
@racheleecious
Writing
"Estranghero"
@cisse56
Reflections
Be yourself at all times only your shadow was created to walk next to you…
@nenennikka
Food: Salad
Morning Healthy Lifestyle Vegetable Salad
@combinedpower
Food: Recipe
Kalamunggay (Moringa) Patty
@jocelynsiano
Rice harvest
Harvest time is here
@deemmosqueda
Photography: nature
WILD FLOWER IN WITH AND WITHOUT MACRO…
@remay
Photography: Portrait
Colorchallenge….My cute niece wearing green for their nutrition month..
@jamiz
Photography: nature
My Smartphone Macros Weeds!
@serenity08
Photography
COLOURFUL PHOTOGRAPHY – LOST IN COLOURS
@shielashraf
Photography: Mugs
Choose your Mugs!
@noreen
Photography: Bicycle
Flower holder Bicycle
@purepinoy
Photography: Food
No Bake Dessert: Munchkins
@janeynarzoles1
Drawing
Drawitbetter Contest #18: Wolf
@lightoj
Drawing
Good News
@relajo
Drawing
My illustration @teardrops
@desireemolina14
Drawing
Farewell tears for Sudan
@jet-line
Drawing
Tears of joy..
@williamjose
Drawing
My illustration @teardrops
---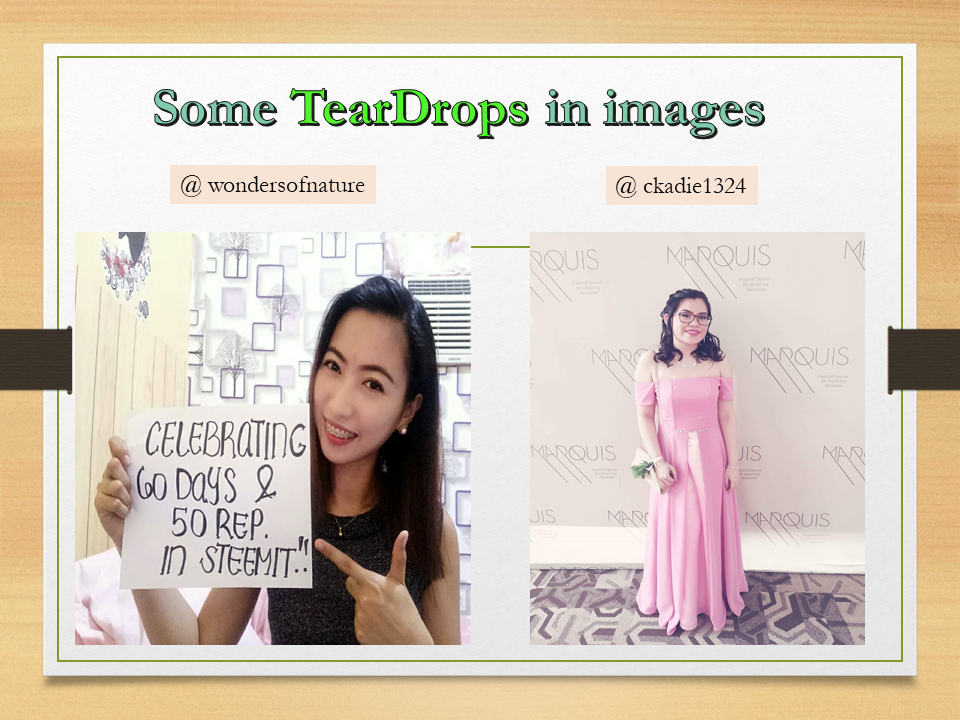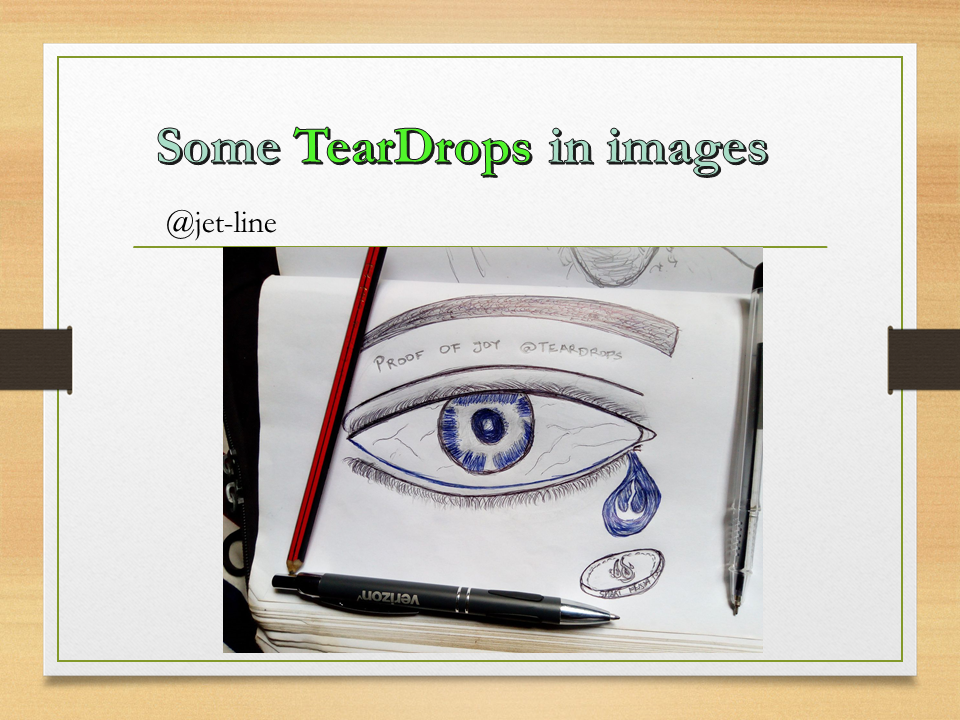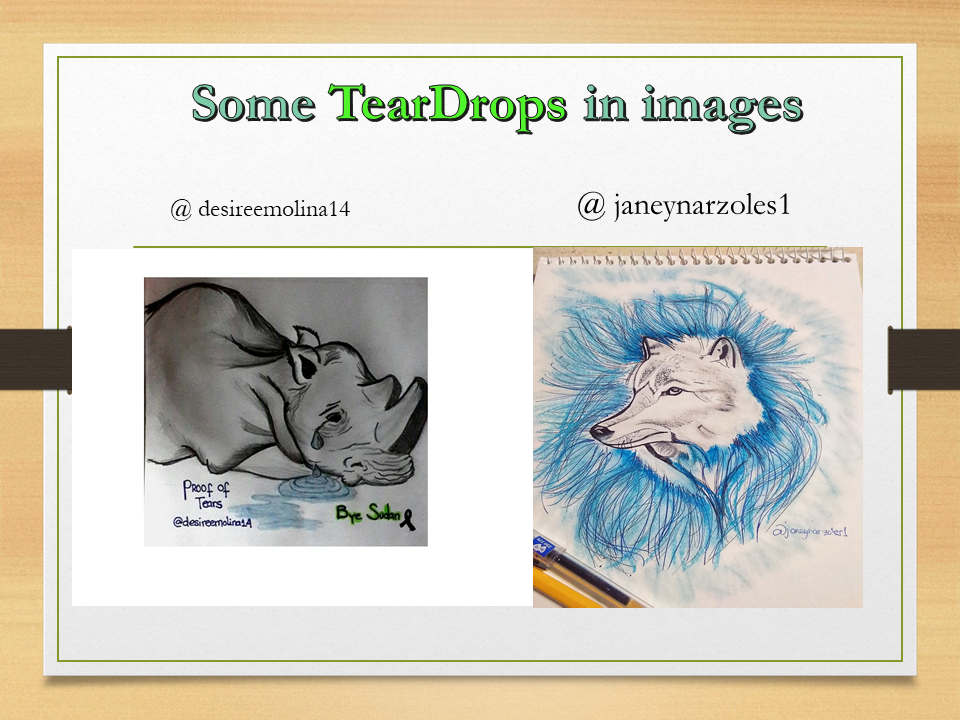 ---
Please visit some of these publications shared from our account and interact with each other, there is always someone who needs your help, a voice of encouragement, a testimony of life to be heard, or you can enjoy a work of art, a poetry, a craft, a tutorial, an inspiring message, get a rare knowledge etc.
Your Boy Terry
@surpassinggoogle
Please like @teardrops on Facebook and Twitter:
https://www.facebook.com/teardropstokens/
https://twitter.com/teardropstokens
I do need strength
Dedicating My Entire Steem/Steemit Journey To My Mum
If you want to support an extra witness and you support mine "steemgigs", it will be really helpful. I run a full public RPC 256 GB node as well to balance the steem ecosystem on "wss://steemd.steemgigs.org"
To vote my witness, simply visit https://steemit.com/~witnesses and type in "steemgigs" into the first search box for witnesses or simply click Here and type in "steemgigs" to do it on one click!
If you want me to make witness voting decisions on your behalf, simply visit https://steemit.com/~witnesses and type in "surpassinggoogle" in the second box for proxy.
Let's Go!!!
Offer a service under hashtag "steemgigs". Attempt out-of-the-boxness on hashtag (untalented).Join the Steemgigs Community on discord: https://discord.gg/CGuPyyT
Everyone has something to offer! ¿Why not?