My witness name is "steemgigs".
Many have a bit of confusion when attempting to vote for my witness and tend to put in "surpassinggoogle" in the witness box.
I knew this was likely to happen from the very beginning. Yes, @surpassinggoogle is the more popular of both accounts but i wanted my witness (steemgigs) to represent things bigger than me; "us!"
You can still support my witness by clicking HERE and typing the word "steemgigs" into the first box for witnesses.
If you would like me to chose steemit witnesses on your behalf, simply type in the word "surpassinggoogle" into the second box HERE
"Tears" have always ever been a symbol of human and drops of it is always created from a place of beauty

I know how many tears i have teared and i know how many tears you have teared and just how many tears humanity has teared and good or not-so-good tears should have value because in reality they do/did, for Jehovah keeps these tears in a skin-bottle at the very least.

@teardrops didn't just start. It is historical history, that an imaginary coin (smart media token) is already hitting the exchanges. Hahaha, [email protected]; "you and me".

@teardrops is still an imaginary smart media token but my precious brothers and swities here on steemit are valuing it and loving it and loving me in return and exchanging and i tell you, this is historical. It is a beauty to watch!

The @teardrops colorlesspaper is filling up quickly and gosh, no "black or white" involved; just "human". It is historical.

With @teardrops SMT, we will evolve something that restores special value to every and each tear drop. We will be able to use @teardrops tokens to dry up many tears and perhaps, replace them with a new breed of tears: we will add more "tears of joy".
The Curation: A Tear Now Has Value # 29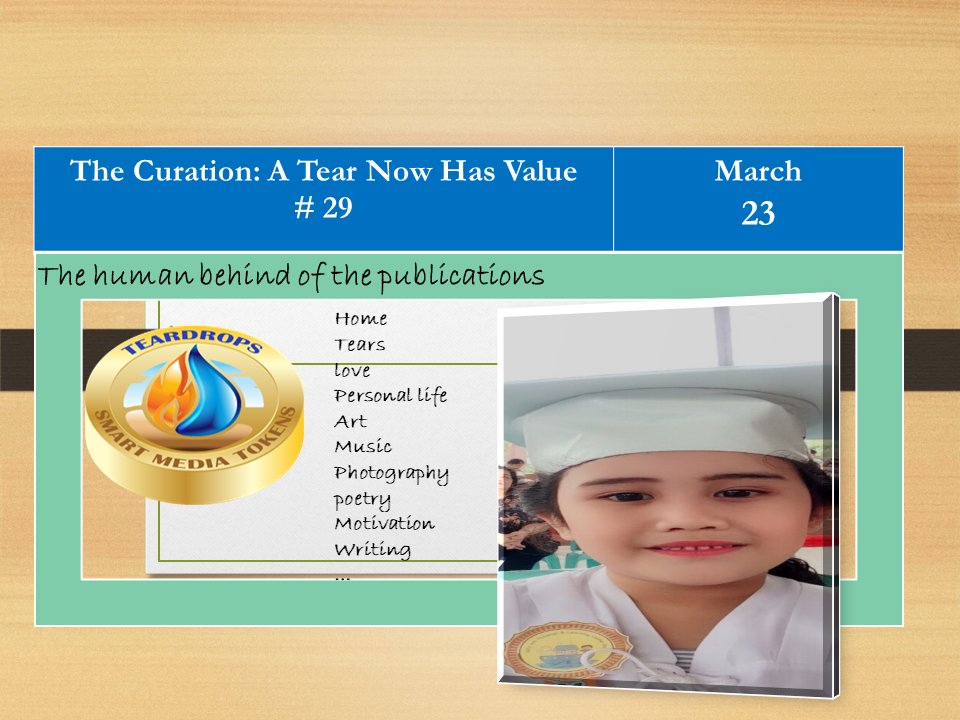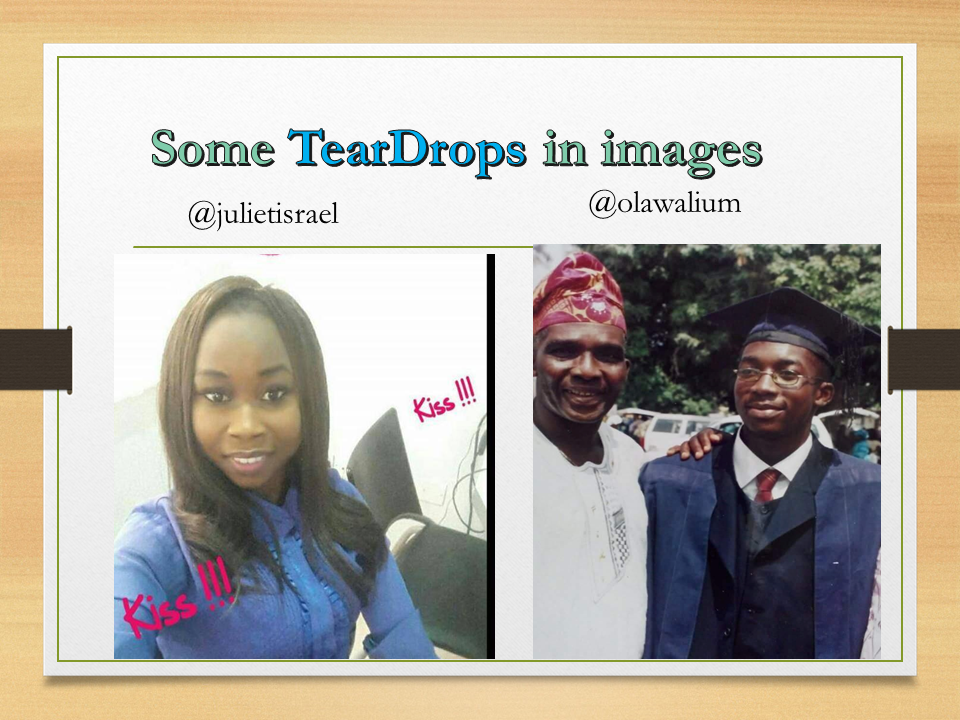 Welcome to the edition The curation A Tear Now Has Value # 29, in this edition, 30 wonderful Steemians are rewarded with extra exposure shared through our account, and ascending votes to create inspiration and add tears of enjoyment.
| Author | Description | Post |
| --- | --- | --- |
| @sitiaishah | Life: She cries of happiness, her daughter Samantha Shayne, initiates her biological cycle of childhood and receives her kindergarten graduation. Cover image. | My Baby Turns Into Little Girl…Teardrops of Happiness |
| @queen1234 | Introduceyourself: She is a new stemians who tells us that she is a university student, her expectations at steemit are to meet people from all over the world, improve her writing skills, make a profit and promote steemit in her community. | Introducing myself |
| @sn0white | Life: She takes advantage of a free time to do something to improve her health status; sportswear and up and down stairs. | Let's Get Fit! |
| @olawalium | Life: He shares with us his memories of admiration and love for his father, who is no longer here. Tells us that even on the day of his funeral he prayed that his father woke up to life again. | I Miss Him. |
| @julietisrael | Life: She shares with us an image of her a year ago, the story behind is a smile trying to appease her pain inside. | Throw back Thursday – Fun With Gee1 |
| @celyn0703 | Life : Share unforgettable moments in high school | High school life!! |
| @jap60 | Life: She lost her cousin, who was also her great friend in a traffic accident, due to the irresponsibility of a motorcyclist. She now asks herself so many questions about this tragedy and can not understand what happened. Your call for the community is to be prudent and responsible when driving as it is not only your life involved, also the of others. | I WILL MISS HER . |
| @hazelicious | Life:She and her group of friends steemians share moments of enjoyment, thanks to one of them, who invites with the profits of Steemit. | First Pay-out Treat |
| @khat.holanda23 | Life | A Woman's Confession |
| @dizzyjay | Life | Letting my vp come back up. |
| @yusdiana | Life | My life my mom |
| @princedone | Writing | Good Morning Breakfast: (6) THE TEMPLE OF GOD |
| @chidiarua | Writing | Old Soldier[An excerpt] |
| @yenipaola | Writing | Antes de- después de |
| @shikika | Writing | What are the common reasons of vehicle accidents on the road? |
| @sistem | Writing | THE NEGLIGENCE OF THE CPS: RIP baby Aniya Day-Garret |
| @arogboolabisi | Tutorial: She teaches us how to make a pattern for a dress for a lady | DIY: HOW TO CUT A SIMPLE A LINE GOWN |
| @shirleynpenalosa | Crafts: Card for your mother | DIY Greeting Card Making Contest |
| @olivia08 | Crafts: Card for your mentor | DIY Greeting Card Making Entry |
| @purepinoy | Photography: Portraitphotography | Y.O.L.O Young Once, Live Once |
| @irhey | Photography: Portraitphotography | The Newly Wed. |
| @josh26 | Photography: Love | The definition of LOVE! |
| @shawmeow | Photography | Color challenge: blue Friday- sky blue |
| @yadah04 | Photography | The Untalented Life: How to Live a Creative Life |
| @samal | Photography | Wednesday Yellow- Give It More Trials |
| @michaelcabiles | Drawing | Mikhail's (น้องเสื้อ) Rainbow Robo T-Rex 😀 |
| @deemmosqueda | Drawing teardrops | PROMOTING @TEARDROPS THROUGH ART |
| @gmarie | Drawing | untitled |
| @sirajul | Drawing teardrops | My Illustration @teardrops |
| @vonromulobalsamo | Drawing teardrops | Precious Teardrops Smart Media Token |
---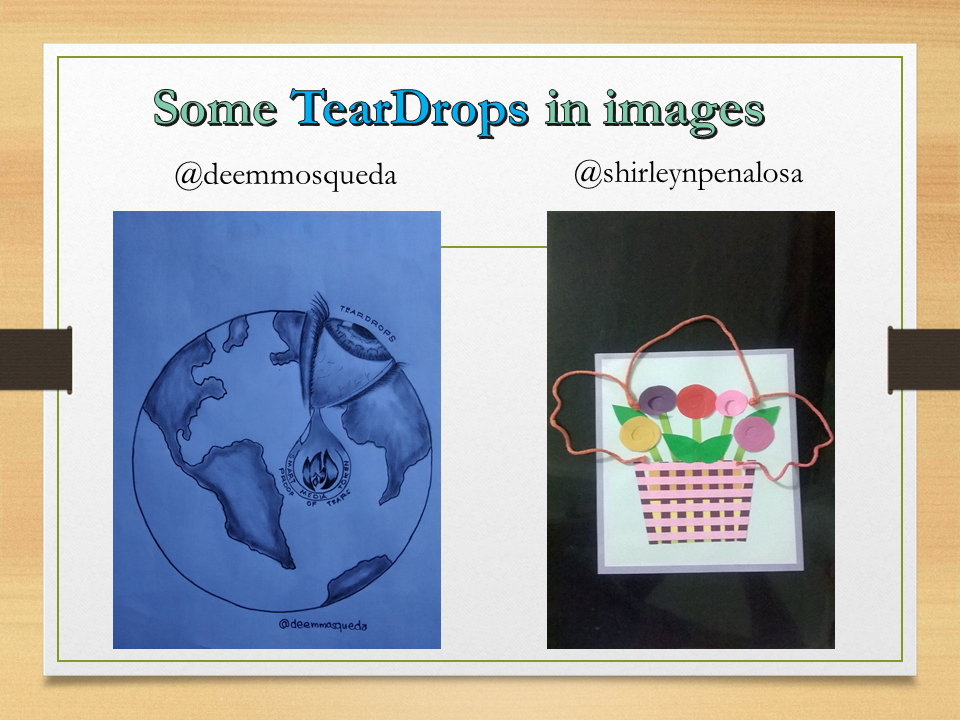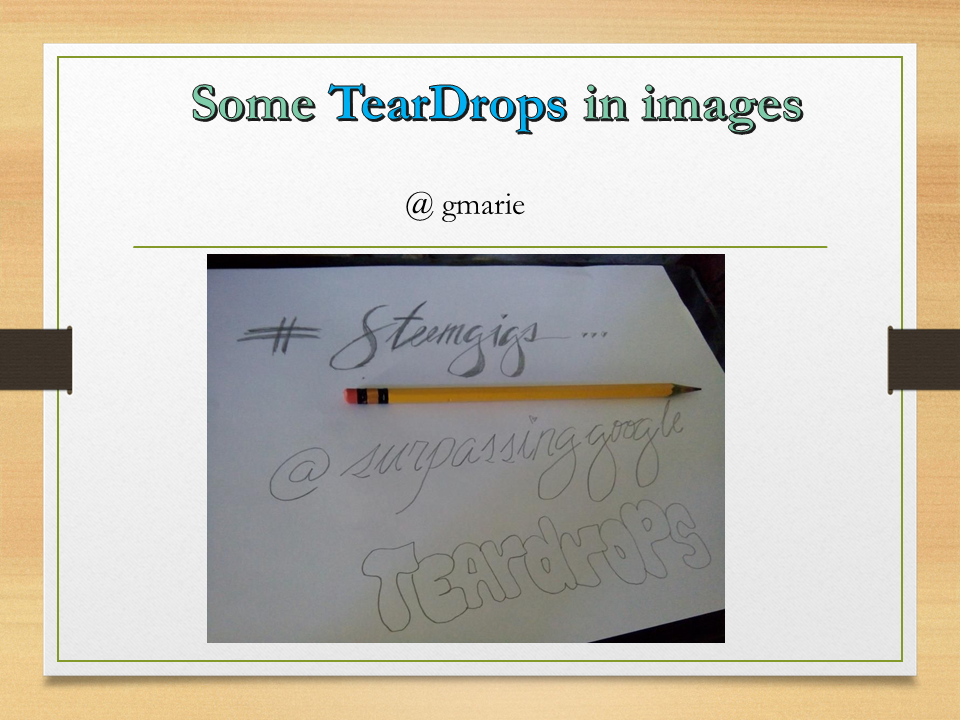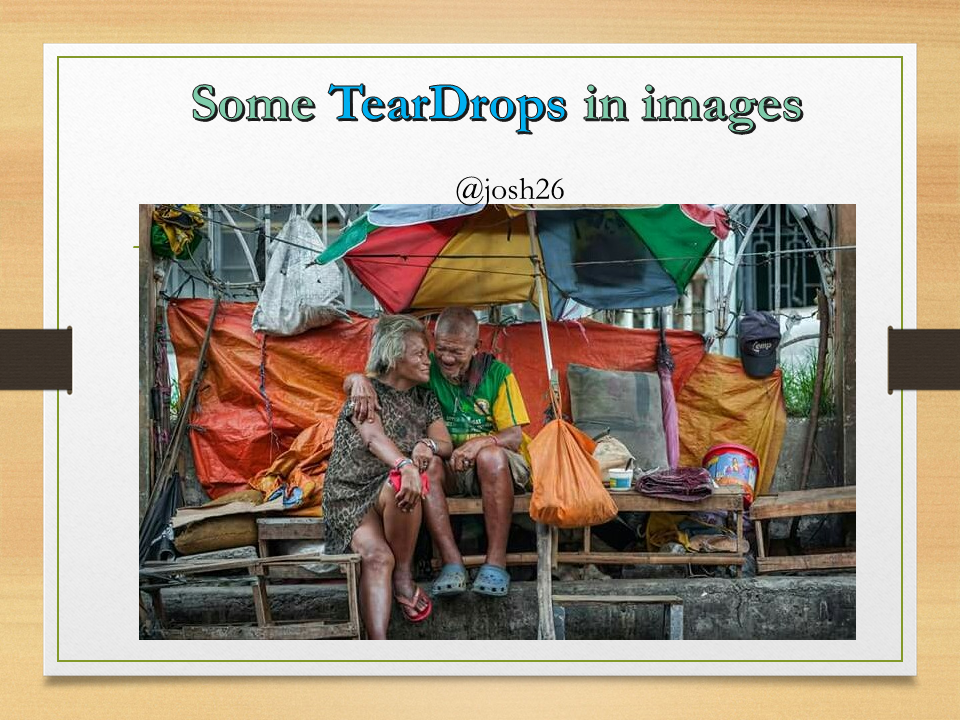 Please visit some of these publications shared from our account and interact with each other, there is always someone who needs your help, a voice of encouragement, a testimony of life to be heard, or you can enjoy a work of art, a poetry, a craft, a tutorial, an inspiring message, get a rare knowledge etc.
Your Boy Terry
@surpassinggoogle
Please like @teardrops on Facebook and Twitter:
https://www.facebook.com/teardropstokens/
https://twitter.com/teardropstokens
I do need strength
Dedicating My Entire Steem/Steemit Journey To My Mum
If you want to support an extra witness and you support mine "steemgigs", it will be really helpful. I run a full public RPC 256 GB node as well to balance the steem ecosystem on "wss://steemd.steemgigs.org"
To vote my witness, simply visit https://steemit.com/~witnesses and type in "steemgigs" into the first search box for witnesses or simply click Here and type in "steemgigs" to do it on one click!
If you want me to make witness voting decisions on your behalf, simply visit https://steemit.com/~witnesses and type in "surpassinggoogle" in the second box for proxy.
Let's Go!!!
Offer a service under hashtag "steemgigs". Attempt out-of-the-boxness on hashtag (untalented).Join the Steemgigs Community on discord: https://discord.gg/CGuPyyT
Everyone has something to offer! ¿Why not?