My witness name is "steemgigs".
Many have a bit of confusion when attempting to vote for my witness and tend to put in "surpassinggoogle" in the witness box.
I knew this was likely to happen from the very beginning. Yes, @surpassinggoogle is the more popular of both accounts but i wanted my witness (steemgigs) to represent things bigger than me; "us!"
You can still support my witness by clicking HERE and typing the word "steemgigs" into the first box for witnesses.
If you would like me to chose steemit witnesses on your behalf, simply type in the word "surpassinggoogle" into the second box HERE
"Tears" have always ever been a symbol of human and drops of it is always created from a place of beauty

I know how many tears i have teared and i know how many tears you have teared and just how many tears humanity has teared and good or not-so-good tears should have value because in reality they do/did, for Jehovah keeps these tears in a skin-bottle at the very least.

@teardrops didn't just start. It is historical history, that an imaginary coin (smart media token) is already hitting the exchanges. Hahaha, [email protected]; "you and me".

@teardrops is still an imaginary smart media token but my precious brothers and swities here on steemit are valuing it and loving it and loving me in return and exchanging and i tell you, this is historical. It is a beauty to watch!

The @teardrops colorlesspaper is filling up quickly and gosh, no "black or white" involved; just "human". It is historical.

With @teardrops SMT, we will evolve something that restores special value to every and each tear drop. We will be able to use @teardrops tokens to dry up many tears and perhaps, replace them with a new breed of tears: we will add more "tears of joy".
The Curation: A Tear Now Has Value # 31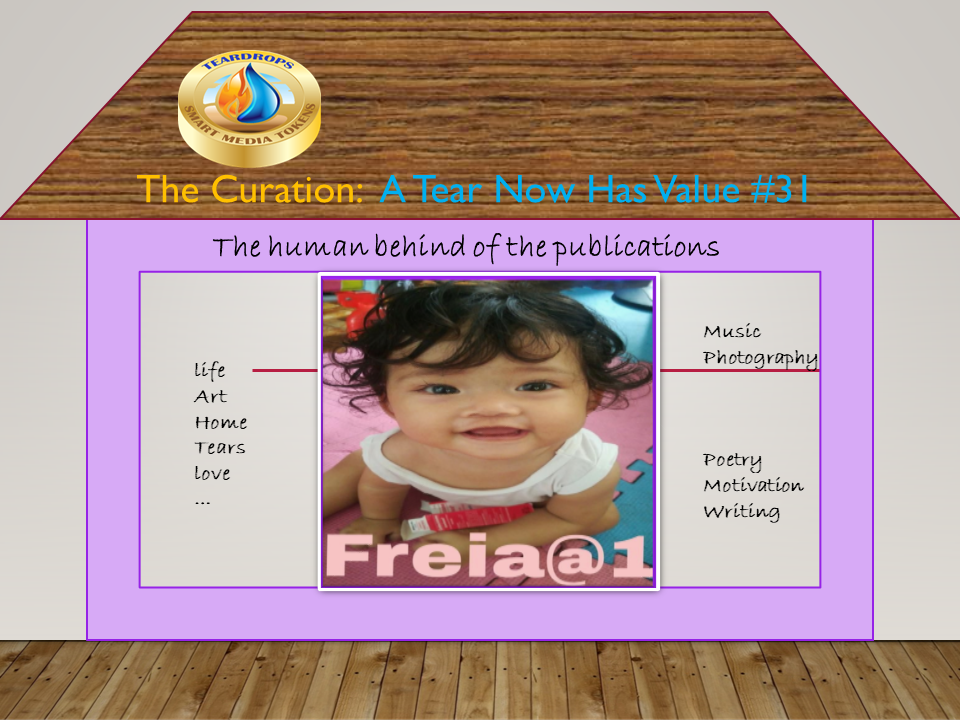 Welcome to the edition The curation A Tear Now Has Value # 31, in this edition, 30 wonderful Steemians are rewarded with extra exposure shared through our account, and ascending votes to create inspiration and add tears of enjoyment.
| Author | Description | Post |
| --- | --- | --- |
| @mini-zephalexia | Life: Your little Freia is a year old now. Cover image. | "Hey! it's my 1st Bday" – Freia- |
| @emdesan | Life: She shares with us her tears of happiness for the blessings received through her friends steemians. Some of them are: an unexpected donation, a desired vacation come true and the prevention of fraud in social networks. | My Happy Teardrops: Thankful to My Steemian Friends |
| @kristinayu | Life: She exposes her thoughts about being a working mother or a full-time mother. She tells us that she is a single mother of two children, she does not have a home of her own and the economic situation becomes difficult, however, she has decided not to be an employee because she wants to fulfill her role as a full-fledged mother. Therefore, she will try to obtain some income with the purchase and sale of products, with a small monetary aid that she receives from his sister. | AN UNEMPLOYED MOTHER. |
| @michaelcabiles | Life: He is a proud father who stimulates and supports the talent has to draw his little son . In his blog we find the step by step that this little artist makes by drawing the six main characters of NinjaGo. | Mikhail's (น้องเสือ) NinjaGo Drawing |
| @rotchel | Life: She and her husband think about the future of their little baby. So from an early age they teach him to save. To do this, his father made a homemade Alkansya and on his payment dates, he gives coins for the child to deposit in his treasure. | Perfect Defination of LOVE for me is my SON.. |
| @gailbelga | Life: She feels melted with love with her sweet and talented three-year-old niece. This has made her think that she is ready to conceive and raise her own child. | Meet my niece Ina |
| @shikika | Life: She shares with us her moments of remembrance of the Station of the Cross, in a place located in barangay San Roque, Barugo. | Lenten Special |
| @joancabz | Life- Traditions | EASTER SUNDAY Preparations |
| @liamnov | Gardening: She gives us some tips for growing flowers. | HOW TO PLANT FLOWERS IN THE FARM |
| @samuyuru4 | Life | My Name is What? A Writing Contest.. |
| @mari-jen | Life | May Mga Di Inaasahang Pangyayari |
| @happymichael | Motivation | THE STEEMIT JOURNEY IS NOT EASY.. |
| @geeyang15 | Poetry | Poetry: Tears Of Salvation |
| @peakreal1 | Life | Home calling for holiday |
| @dianafigura | Life | My Steemit Name @dianafigura – The story |
| @ortorres1123 | Poetry | "Ang Langgam" |
| @cyclaire30 | Photography | Vintage Typewriter – Sentimental Value |
| @mbj | Photography | Black and white me!! |
| @cebufinest | Photography | Banana Blossom: A Teardrop-Shaped Purple Flower |
| @bakti | Art Digital | #STEEMGIGS: Witness updates |
| @tarsivy | Writing-Fiction | Pagibig ko sayo ay totoo (True Story) |
| @hergist | Life | Somewhere in Africa, sand and ashes are being used in place of sanitary pad |
| @antonette | Poetry | A Prisoner Without Bars Locked from the Past |
| @saskia | Photography | #SmartPhonePhotography: De Venecia |
| @dzued | Art: drawing | OUR LORD AND SAVIOR JESUS CHRIST |
| @manuelsegovia | Drawing | TEARDROPS: My illustration |
| @diegoreyes | Drawing | TEADROPS: My ilustration @teardrops |
| @mr-jobean | Drawing | FanArt: Introducing mr. jo"bean" |
| @qyugmo | Art: Digital | Digital Art: Fan art for Munimuni, a local indie folk band |
| @armonia | Reflection -spanish | El inicio de la Pascua |
---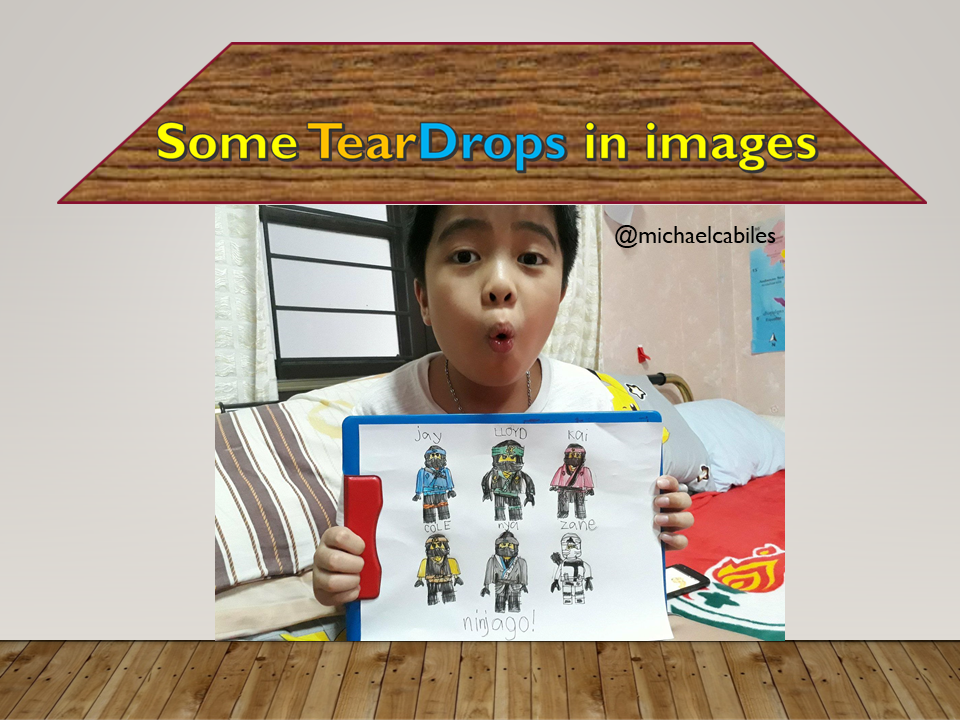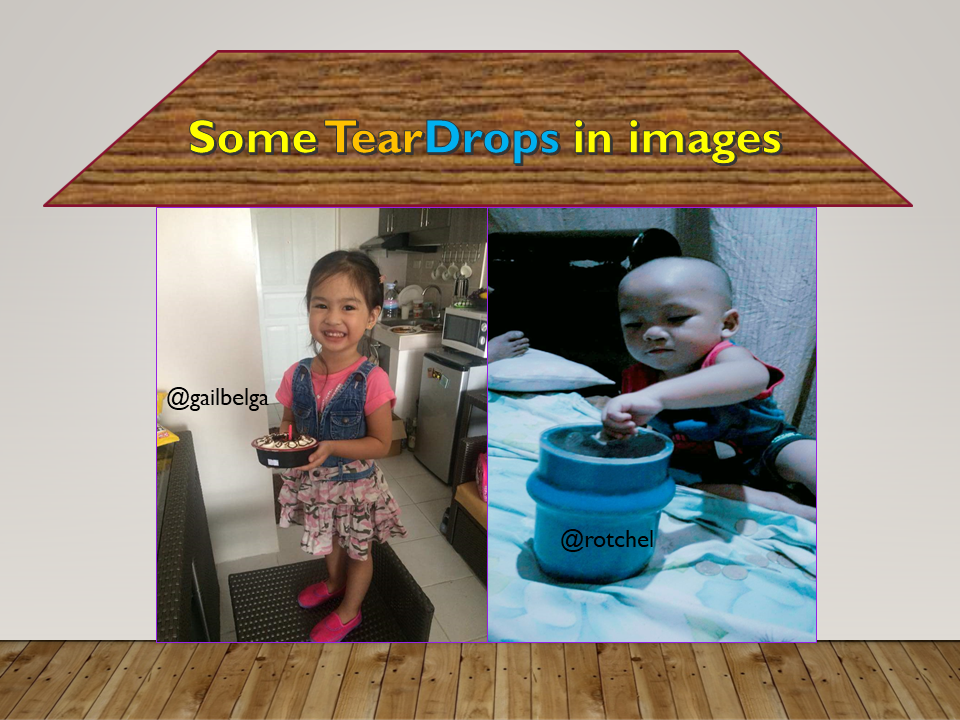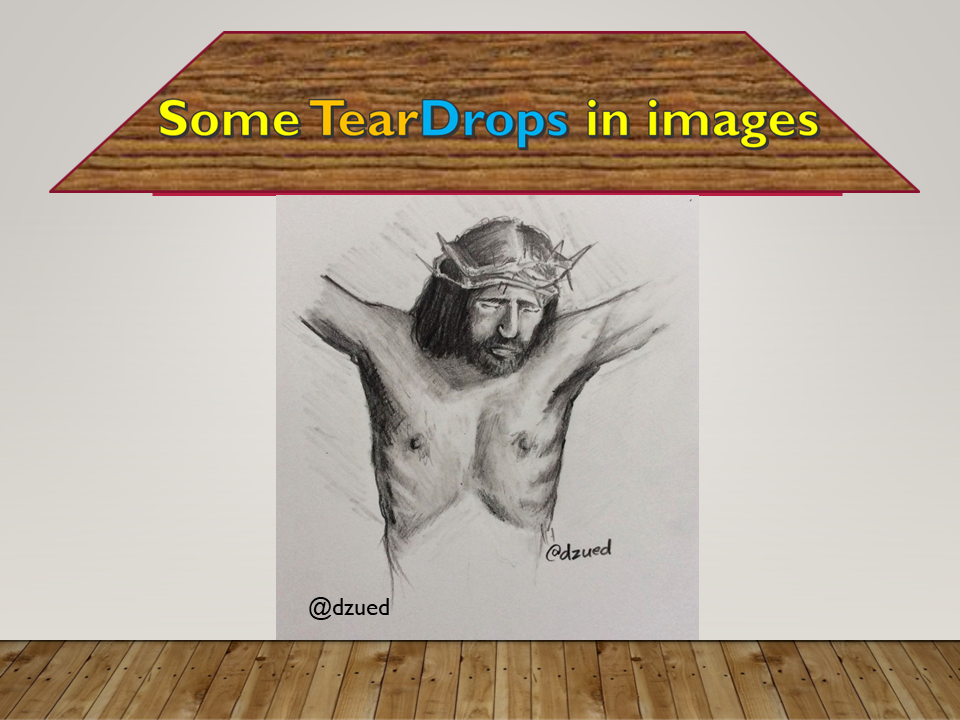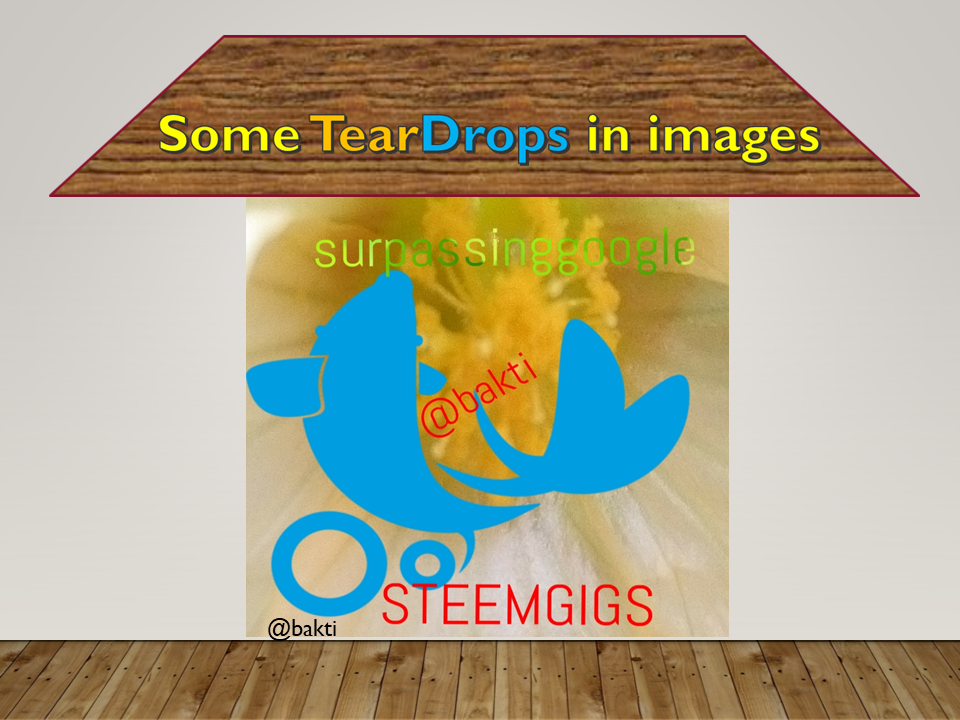 ---
Please visit some of these publications shared from our account and interact with each other, there is always someone who needs your help, a voice of encouragement, a testimony of life to be heard, or you can enjoy a work of art, a poetry, a craft, a tutorial, an inspiring message, get a rare knowledge etc.
Your Boy Terry
@surpassinggoogle
Please like @teardrops on Facebook and Twitter:
https://www.facebook.com/teardropstokens/
https://twitter.com/teardropstokens
I do need strength
Dedicating My Entire Steem/Steemit Journey To My Mum
If you want to support an extra witness and you support mine "steemgigs", it will be really helpful. I run a full public RPC 256 GB node as well to balance the steem ecosystem on "wss://steemd.steemgigs.org"
To vote my witness, simply visit https://steemit.com/~witnesses and type in "steemgigs" into the first search box for witnesses or simply click Here and type in "steemgigs" to do it on one click!
If you want me to make witness voting decisions on your behalf, simply visit https://steemit.com/~witnesses and type in "surpassinggoogle" in the second box for proxy.
Let's Go!!!
Offer a service under hashtag "steemgigs". Attempt out-of-the-boxness on hashtag (untalented).Join the Steemgigs Community on discord: https://discord.gg/CGuPyyT
Everyone has something to offer! ¿Why not?