My witness name is "steemgigs".
Many have a bit of confusion when attempting to vote for my witness and tend to put in "surpassinggoogle" in the witness box.
I knew this was likely to happen from the very beginning. Yes, @surpassinggoogle is the more popular of both accounts but i wanted my witness (steemgigs) to represent things bigger than me; "us!"
You can still support my witness by clicking HERE and typing the word "steemgigs" into the first box for witnesses.
If you would like me to chose steemit witnesses on your behalf, simply type in the word "surpassinggoogle" into the second box HERE
"Tears" have always ever been a symbol of human and drops of it is always created from a place of beauty

I know how many tears i have teared and i know how many tears you have teared and just how many tears humanity has teared and good or not-so-good tears should have value because in reality they do/did, for Jehovah keeps these tears in a skin-bottle at the very least.

@teardrops didn't just start. It is historical history, that an imaginary coin (smart media token) is already hitting the exchanges. Hahaha, [email protected]; "you and me".

@teardrops is still an imaginary smart media token but my precious brothers and swities here on steemit are valuing it and loving it and loving me in return and exchanging and i tell you, this is historical. It is a beauty to watch!

The @teardrops colorlesspaper is filling up quickly and gosh, no "black or white" involved; just "human". It is historical.

With @teardrops SMT, we will evolve something that restores special value to every and each tear drop. We will be able to use @teardrops tokens to dry up many tears and perhaps, replace them with a new breed of tears: we will add more "tears of joy".
The Curation: A Tear Now Has Value # 34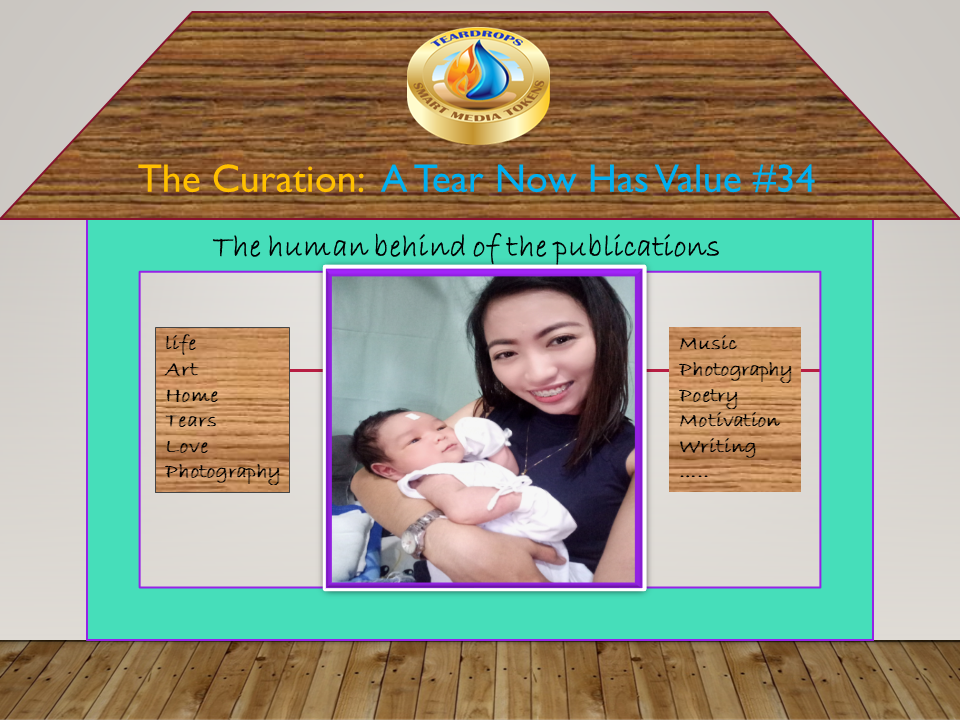 Welcome to the edition The curation A Tear Now Has Value # 34, in this edition, 30 wonderful Steemians are rewarded with extra exposure shared through our account, and ascending votes to create inspiration and add tears of enjoyment.
| Author | Description | Post |
| --- | --- | --- |
| @wondersofnature | Life: She is a very happy aunt with the arrival of her nephew Edward to this world. She is already thinking about what profession this cute baby will have in her adult life. Cover image. | An addition to our family! |
| @franbel | Life: She tells us that she has been depressed and about to give up steemit, now she understands that it is due of the hormonal changes that are happening in her body, she is waiting for a baby. Congratulations to this beautiful mother. | Teardrops: "I almost give up on Steeming" |
| @michellpiala | Writing: The author travels through the people and in this opportunity she brings us a story about a girl with a perfect surface, but even so, close up there were some small cracks. This girl faced adversity in all aspects but her cracks did not erode. ¿How did she achieve this? | Travel Through People: Life Full of Sunshine, Flowers & Bees |
| @june21neneng | Writing: The author from his experience shares good practices in the education of their children, one of them is the example given by parents. | HOW TO BE A GOOD MOTHER? |
| @debilog | Motivation: You will find a reflection that invites us to stop and embrace the little things of life, a fragment "We forget the fingers that run through our hair to free us from headaches …. Watch how things move and you may be surprised at how graceful they dance " | The Little Things |
| @shikika | Life: She sings for her sister, who grew older | Happy Happy Birthday To My Untalented Sister Dona |
| @ashlyncurvey | Garden: She shows us her tomato plants sown in the front of her house | Magandang Umaga steemians! Update sa aking Kamatis!🇵🇭 |
| @yadah04 | Life: She has steemit in mind at every moment. Everything around her acquires a category "Steemitized" | Everything I See Around is "Steemitable". Yup, I am "Steemitized" |
| @juichi | Life: A proud father of school triumphs, of his son. | Because he made me proud of him… |
| @gyn | Life: She is proud of her daughter, who has received a school degree. | #Teardrops: A Message to my daughter on her Graduation Day! |
| @marpa | Here you will find a creative cartoon story in an adventure in the kitchen that ends with a delicious orange cake. | La naranja amarga The bitter orange |
| @purpledaisy57 | Life: Tears of happiness, his long-awaited passport to the United States has already been renewed and is in his hands. | The Long Awaited Package – Teardrops of Happiness |
| @emz89 | Life:Tears of happiness of this mother proud of her little daughter, she received several recognitions in her school. | Teardrops Recognition Day: Congrats Vhinysah |
| @misspinay85 | Life: She shares happy moments with her beautiful girl. | why so cute 🙂 |
| @tukane | Life: He tells us that he is tired of the school system and is about to give up because he feels like in a box. | I AM SO TIRED OF SCHOOL |
| @sbamsoneu | Writing: inspiration | Never let the "good enough" be good enough. |
| @dizzyjay | Life | Upfundme day 9 |
| @saefan | Life | God Why This Tears Continue Dripping |
| @ckadie1324 | Life | A Junior High Welcomes the Senior High.. high school life |
| @hazelicious | Life | My Entry: "The Story of my Profile Picture" |
| @fireonxas | Technology | [Education-technology-programs] MKVMerge, editing Software and … |
| @daisyt23 | Poetry | A TEST OF LIFE |
| @poeticlee | Poetry | Night owl |
| @olivia08 | Poetry | Apo Kong si Olivia Dev at Iscia Dev |
| @cebuvibes | Photography | Christening Day of Our Little Angel |
| @frellarong | Poetry | Poetry #43: Mind and Heart |
| @irmanreza | Drawing | My Art: Colored Butterflies |
| @daii | Drawing | TEARDROPS ENTRY: SMART MEDIA |
| @josegc | Drawing | TEARDROPS: My illustration |
| @nymia.aryn | Art Digital | Discovering making art in a digital way, first "teardrops eye" |
---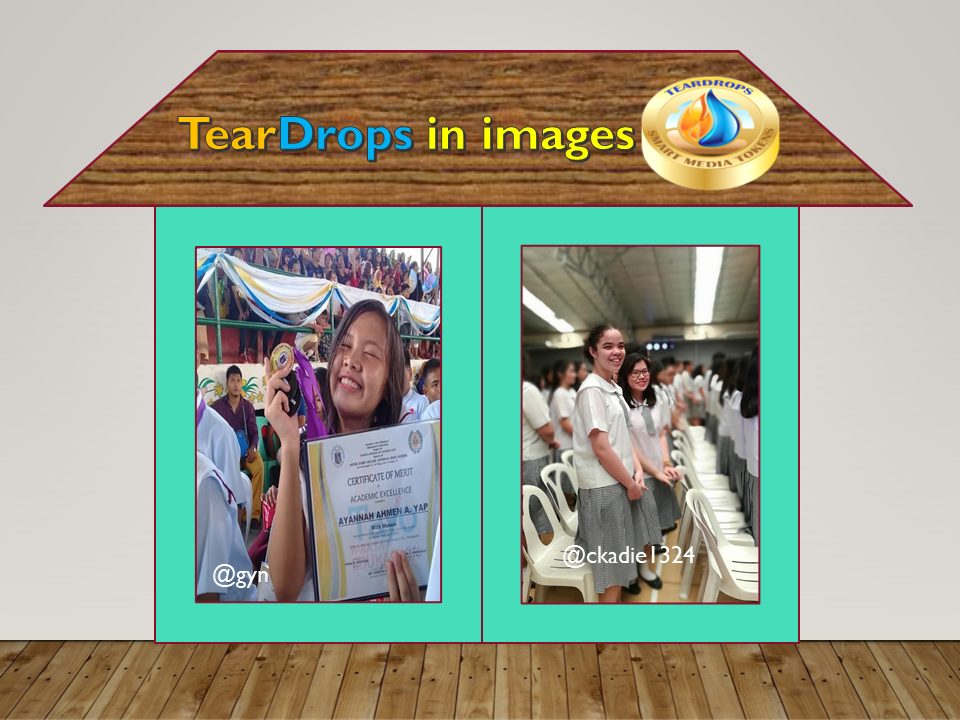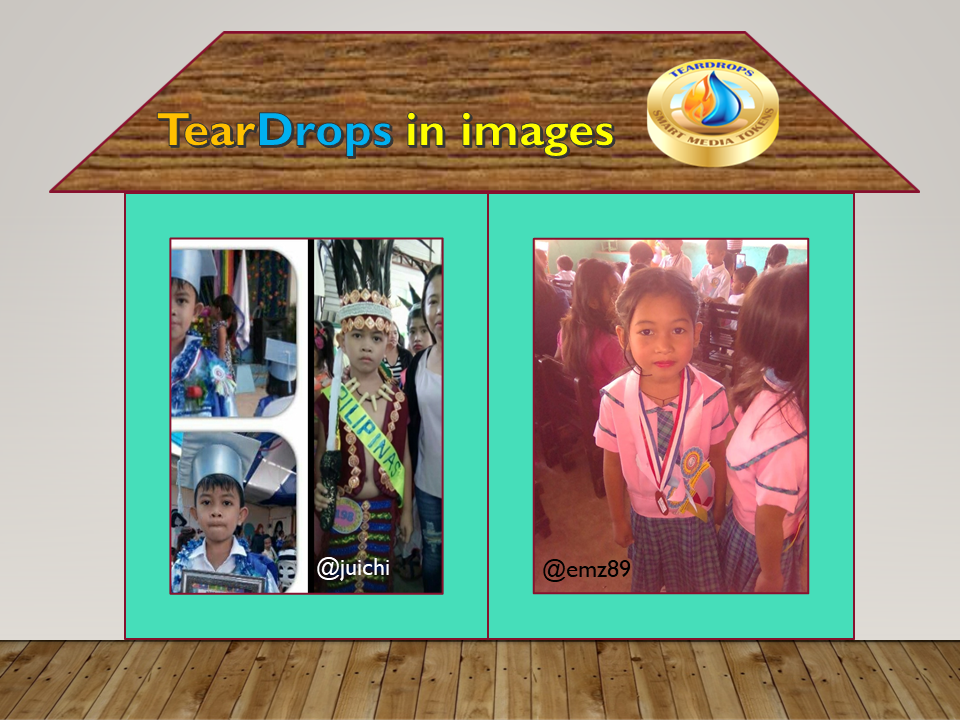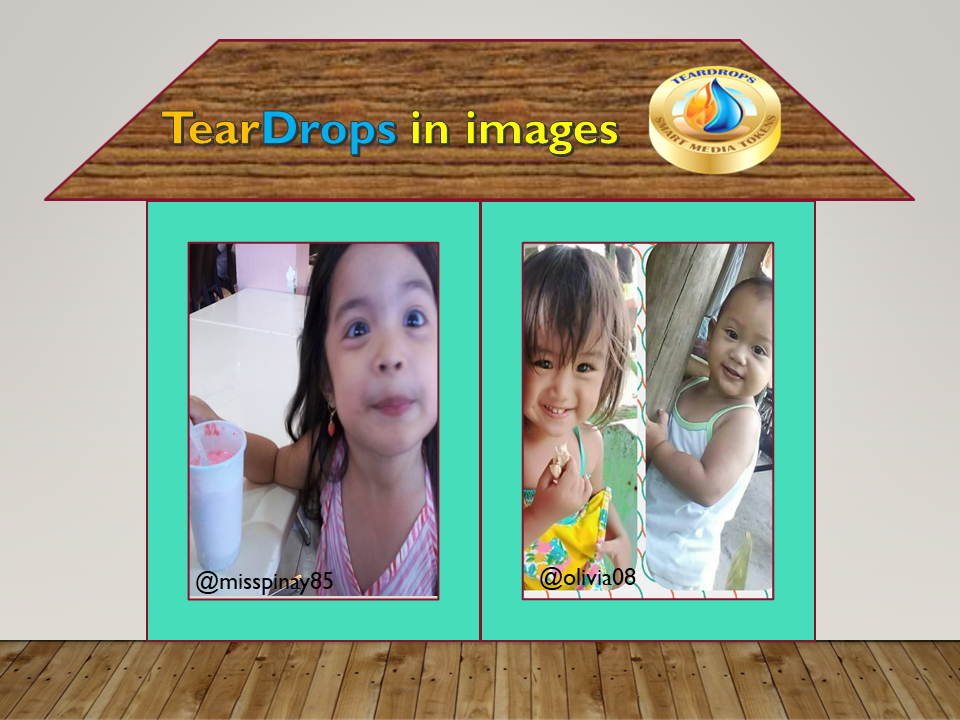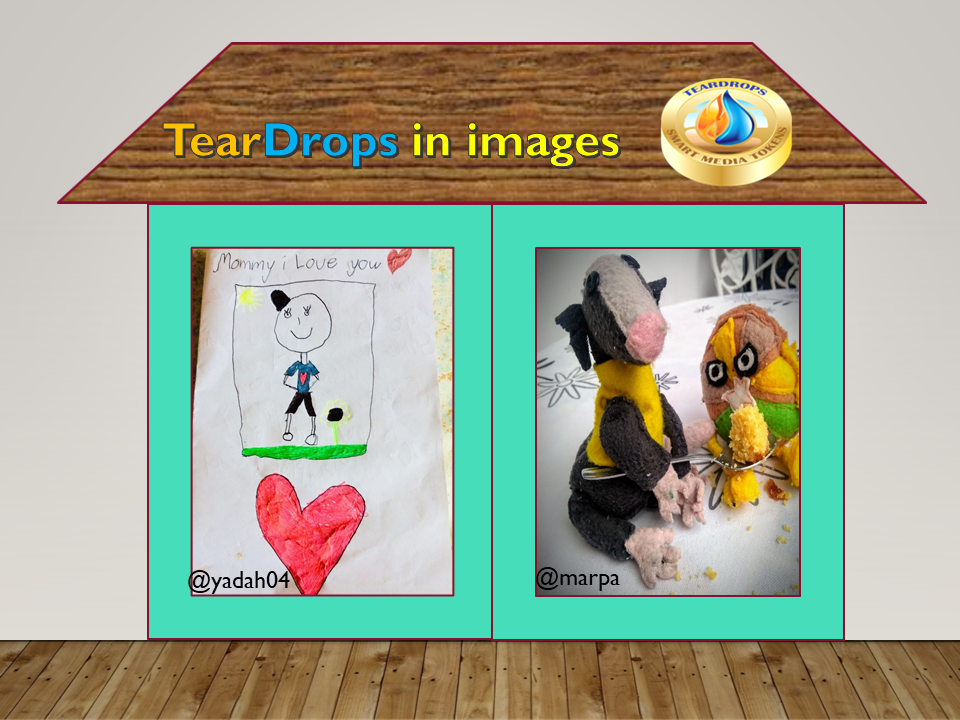 Please visit some of these publications shared from our account and interact with each other, there is always someone who needs your help, a voice of encouragement, a testimony of life to be heard, or you can enjoy a work of art, a poetry, a craft, a tutorial, an inspiring message, get a rare knowledge etc.
Your Boy Terry
@surpassinggoogle
Please like @teardrops on Facebook and Twitter:
https://www.facebook.com/teardropstokens/
https://twitter.com/teardropstokens
I do need strength
Dedicating My Entire Steem/Steemit Journey To My Mum
If you want to support an extra witness and you support mine "steemgigs", it will be really helpful. I run a full public RPC 256 GB node as well to balance the steem ecosystem on "wss://steemd.steemgigs.org"
To vote my witness, simply visit https://steemit.com/~witnesses and type in "steemgigs" into the first search box for witnesses or simply click Here and type in "steemgigs" to do it on one click!
If you want me to make witness voting decisions on your behalf, simply visit https://steemit.com/~witnesses and type in "surpassinggoogle" in the second box for proxy.
Let's Go!!!
Offer a service under hashtag "steemgigs". Attempt out-of-the-boxness on hashtag (untalented).Join the Steemgigs Community on discord: https://discord.gg/CGuPyyT
Everyone has something to offer! ¿Why no?