"Tears" have always ever been a symbol of human and drops of it is always created from a place of beauty.
I know how many tears i have teared and i know how many tears you have teared and just how many tears humanity has teared and good or not-so-good tears should have value because in reality they do/did, for Jehovah keeps these tears in a skin-bottle at the very least.
@teardrops didn't just start. It is historical history, that an imaginary coin (smart media token) is already hitting the exchanges. Hahaha, [email protected]; "you and me".
@teardrops is still an imaginary smart media token but my precious brothers and swities here on steemit are valuing it and loving it and loving me in return and exchanging and i tell you, this is historical. It is a beauty to watch!
The @teardrops colorlesspaper is filling up quickly and gosh, no "black or white" involved; just "human". It is historical.
With @teardrops SMT, we will evolve something that restores special value to every and each tear drop. We will be able to use @teardrops tokens to dry up many tears and perhaps, replace them with a new breed of tears: we will add more "tears of joy".
---
My witness name is "steemgigs".
Many have a bit of confusion when attempting to vote for my witness and tend to put in "surpassinggoogle" in the witness box. I knew this was likely to happen from the very beginning. Yes, @surpassinggoogle is the more popular of both accounts but i wanted my witness (steemgigs) to represent things bigger than me; "us!"
Please, you can verify your vote visiting Hereand if it is not there, you can still support my witness typing the word "steemgigs" into the first box for witnesses. Or if you would like me to chose steemit witnesses on your behalf, simply type in the word "surpassinggoogle" into the second box .
The Curation: A Tear Now Has Value # 36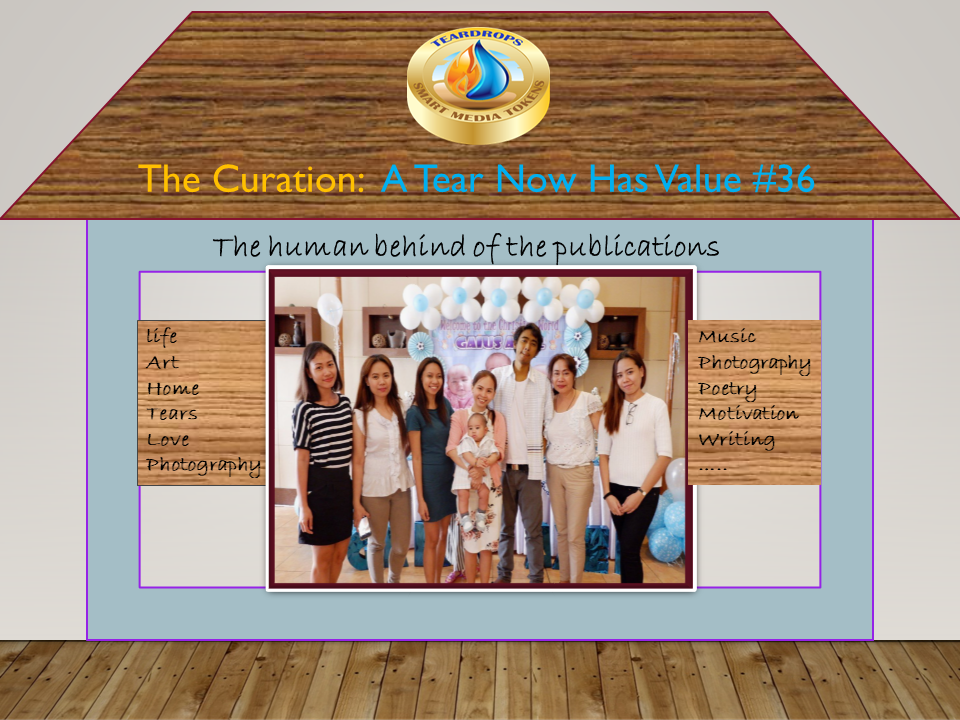 Welcome to the edition The curation A Tear Now Has Value # 36, in this edition, 40 wonderful Steemians are rewarded with extra exposure shared through our account, and ascending votes to create inspiration and add tears of enjoyment.
| Author | Description | Post |
| --- | --- | --- |
| @istillrise | Life: A member of our family steemit left this world, his sister expresses the sadness of his loss with a poem dedicated to him. Our heartfelt condolences to the family. | I love You Message |
| @fernwehninja | Life: She shares with us the sad event about the death of her brother @stillrise he suffered from a congenital heart disease and showed us his determination to embrace life during his trip here in steemit. | I badly need your help,knocking to your heart. My one and only brother @istillrise passed away. Our heart survivor |
| @dizzyjay | Life: He had a relapse in his state of health and had to be hospitalized for a depressive suicidal crisis. So he will remain at Steemit but at a slower pace while looking to solve the triggers and embrace life with his family. | They called it a stress attack |
| @carlo1974 | Life: He shares moments with his grandfather, a longevity 101-year-old man who still stands. ¿What are your secrets? | 101 YEARS BLESSED! MY UNTALENTED LOLO (GRANDFATHER) |
| @maylyn09 | Life: She grew older, and celebrates her day with enthusiasm, her main motor is her children and for them she will fight to overcome the adverse conditions of her health, one of her lungs is no longer functional due to pulmonary emphysema. | Hand-lettering Contest My Entry: "Life is too Short to be Anything |
| @yennarido | Life: She grew older and celebrated her day with a delicious pancit canton made at home, while working in the office. | PANCIT CANTON FOR MY BIRTHDAY(HAPPY BIRTHDAY TO ME) |
| @lebron2016 | Life: His mother is his heroine, a woman dedicated to the care of his family, tireless, always ready to take care of everyone and household chores. She wanted her beautiful mother to rest a little. | JUST SIT PRETTY MOM, YOU'RE THE REAL SUPER-HEROINE! |
| @ogejoy | Life: She shares that her mood is not good, she feels disappointed and she does not receive necessary attention. | Moment of sadness can be tough |
| @beyonddisability | Poetry | Soul Searching (poem #23, My 30days poetry challenge |
| @daisyt23 | Life | THE LOVE OF A MOTHER TO HER DAUGHTER SHARE A SPECIAL BOND |
| @tudors | Life | LOVE IT/ SHOVE IT CHALLENGE |
| @sawi | Life | Holiday is Family Day Movie Night for the Kids |
| @desmonddesk | Writing | HUMANITY AND THE ART OF EFFECTIVE THINKING |
| @babazak | Writing | IT IS NOT OVER YET! |
| @sweetkathy | Life | Im Done Goodbye |
| @arwinhiloma | Writing | My Entry on Creative Writing hosted by @mashiliyanage |
| @avhyaceulip | Life | Dear STIARY – 4-8-2018 |
| @adedoyinwealth | Writing | HOW TO MAKE QUALITY/MEANINGFUL COMMENTS-A MUST READ FOR MINNOWS |
| @carlo1974 | Life | HAPPY SEEING MY WALLET TODAY |
| @sistem | Writing | DON'T LET YOUR PHONES RUIN YOUR LIFE |
| @peakreal | Life | Sweetness of Tears through .. |
| @baby07 | Life | Haturday before the #famsdayout..teardrops of missing out .. |
| @creyestxsa94 | Life | The Struggle of Being Unemployed is REAL |
| @estheromoyiwola | Life | I MISS YOU MUM. |
| @armonia | Life-Spanish | La fuerza de la amistad, no tiene fronteras. Parte 2 |
| @dangerousangel | Life | My daughter grows older than 2/365 |
| @sissyjill | Life | A Love Letter for my Mother |
| @dennis041713 | Poetry | Angel From Heaven |
| @jimcustodio | Life | Visiting Parents |
| @sawphyire | Life | GOODBYE |
| @ortorres1123 | Writing | A Letter to Humanity – Yours Truly, Your Pets |
| @blessedsteemer | Garden | Hello my plants! Hello world! |
| @nuell | Poetry | HOPE IN PAINS |
| @smartcarthy | Poetry | The Downtown Guitarist |
| @memox17 | Food: Recipe | how to prepare sweet rolls or arepas |
| @cyclaire30 | Photography | Cow Grazing |
| @alvibokz15 | Photography | Albino Columbidae |
| @gourdon | Art digital | SUPPORT FOR STEEMGIGS |
| @chadee | Drawing | TEARDROPS: My illustration |
| @karinanunez | Drawing | Realistic eye |
| @yabellita | Drawing | My illustration for @teardrops |
---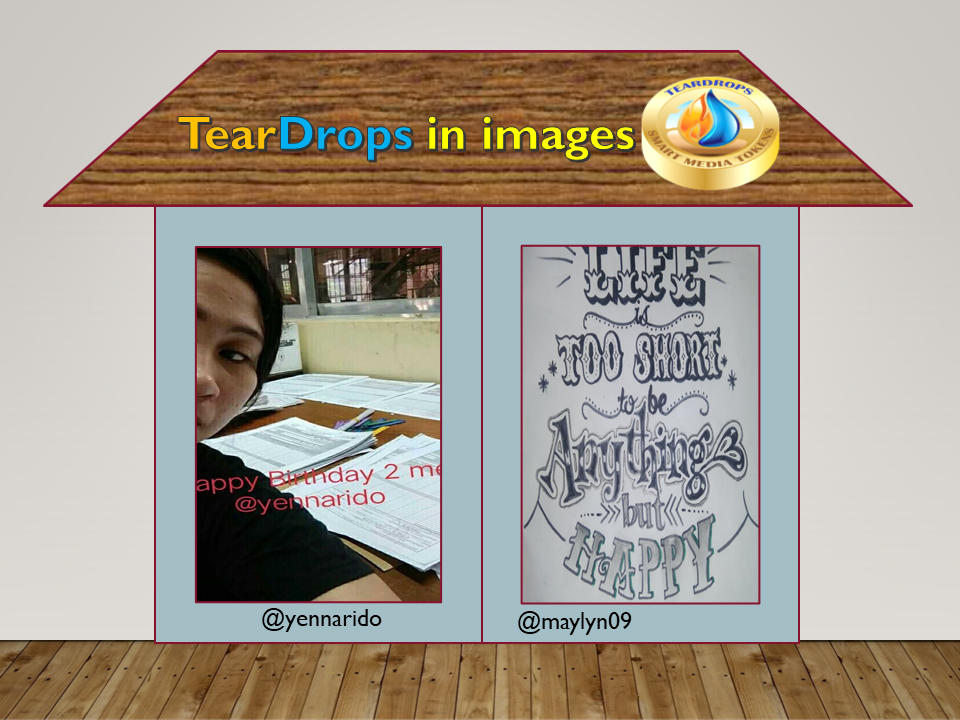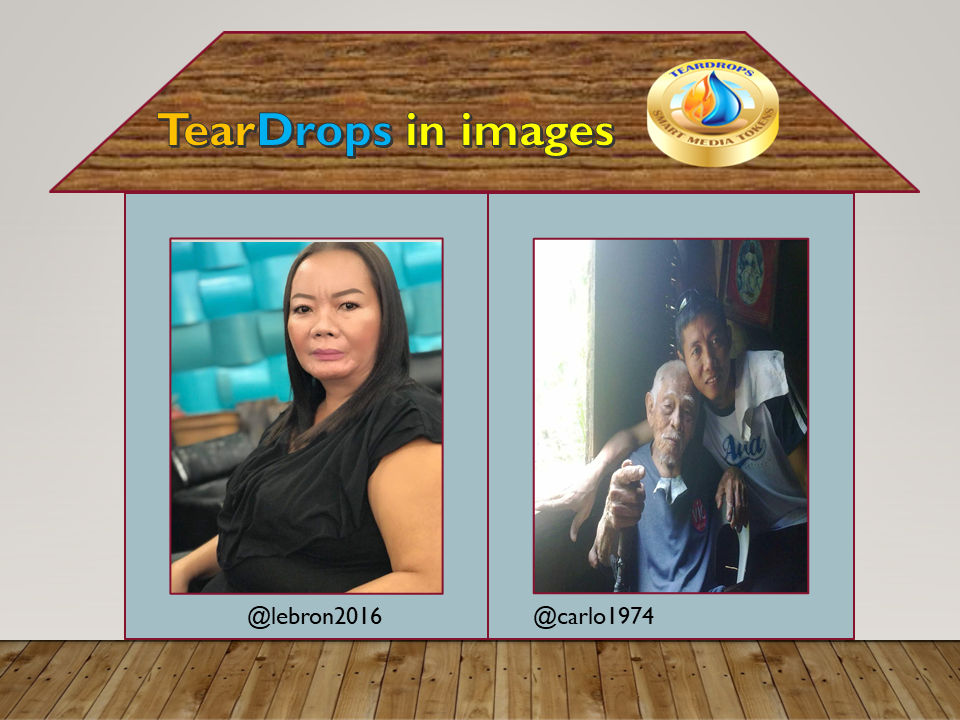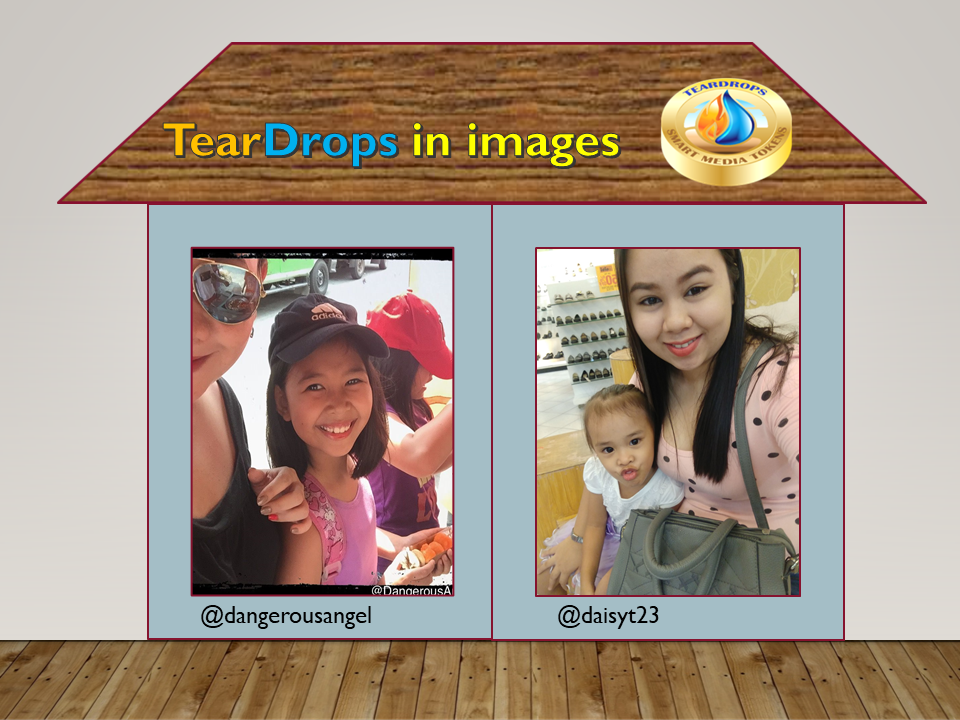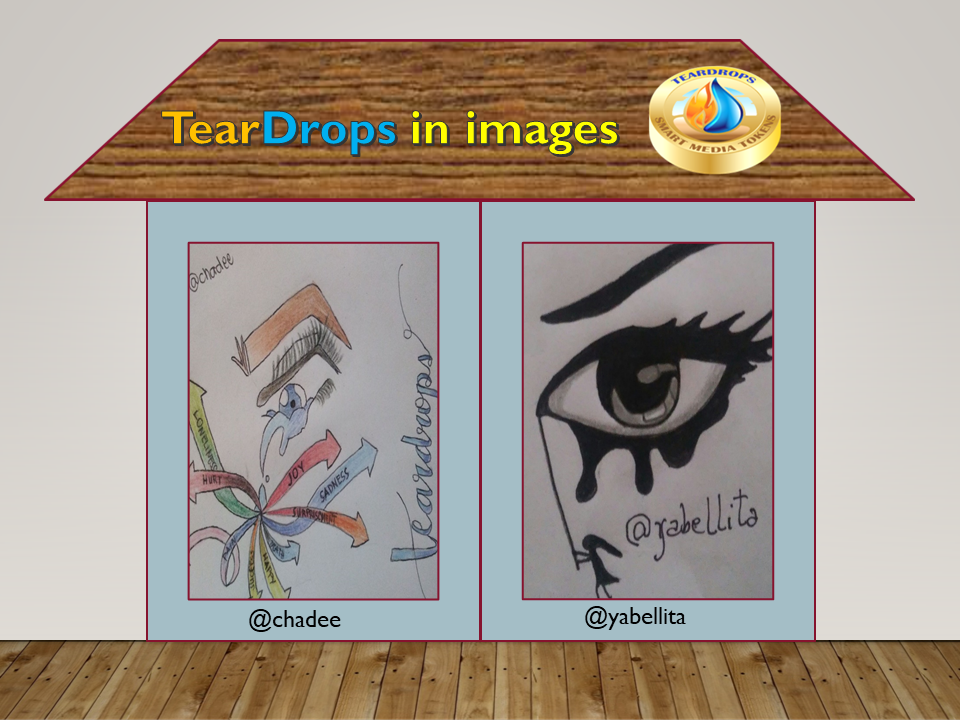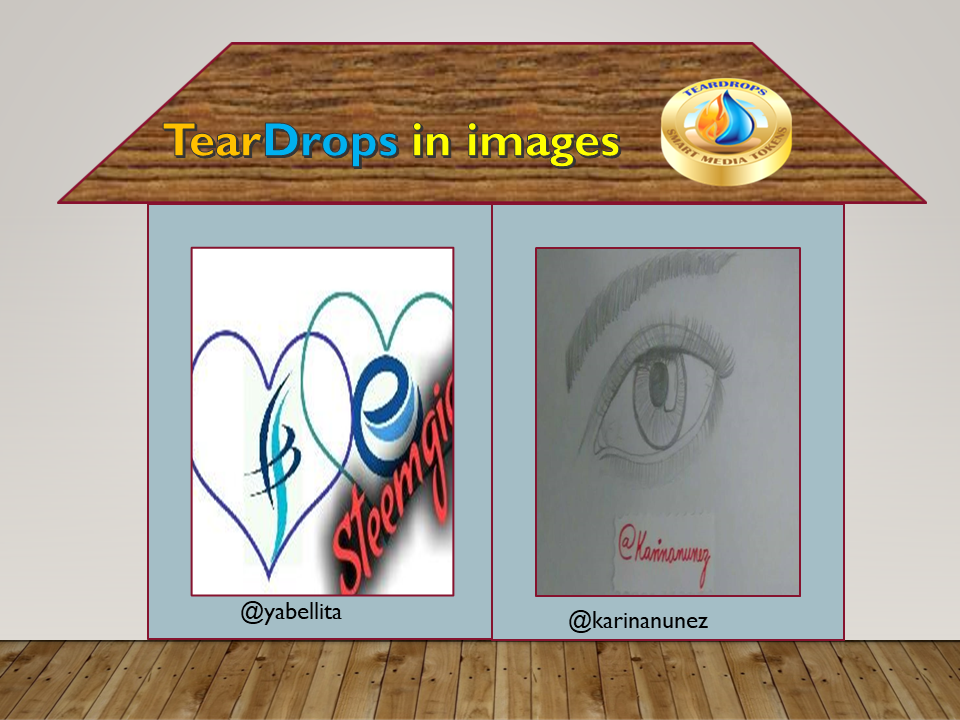 ---
Please visit some of these publications shared from our account and interact with each other, there is always someone who needs your help, a voice of encouragement, a testimony of life to be heard, or you can enjoy a work of art, a poetry, a craft, a tutorial, an inspiring message, get a rare knowledge etc.
Your Boy Terry
@surpassinggoogle
Please like @teardrops on Facebook and Twitter:
https://www.facebook.com/teardropstokens/
https://twitter.com/teardropstokens
I do need strength
Dedicating My Entire Steem/Steemit Journey To My Mum
If you want to support an extra witness and you support mine "steemgigs", it will be really helpful. I run a full public RPC 256 GB node as well to balance the steem ecosystem on "wss://steemd.steemgigs.org"
To vote my witness, simply visit https://steemit.com/~witnesses and type in "steemgigs" into the first search box for witnesses or simply click Here and type in "steemgigs" to do it on one click!
If you want me to make witness voting decisions on your behalf, simply visit https://steemit.com/~witnesses and type in "surpassinggoogle" in the second box for proxy.
Let's Go!!!
Offer a service under hashtag "steemgigs". Attempt out-of-the-boxness on hashtag (untalented).Join the Steemgigs Community on discord: https://discord.gg/CGuPyyT
Everyone has something to offer! ¿Why no?