"Tears" have always ever been a symbol of human and drops of it is always created from a place of beauty

I know how many tears i have teared and i know how many tears you have teared and just how many tears humanity has teared and good or not-so-good tears should have value because in reality they do/did, for Jehovah keeps these tears in a skin-bottle at the very least.

With @teardrops SMT, we will evolve something that restores special value to every and each tear drop. We will be able to use @teardrops tokens to dry up many tears and perhaps, replace them with a new breed of tears: we will add more "tears of joy".
The Curation: A Tear Now Has Value # 9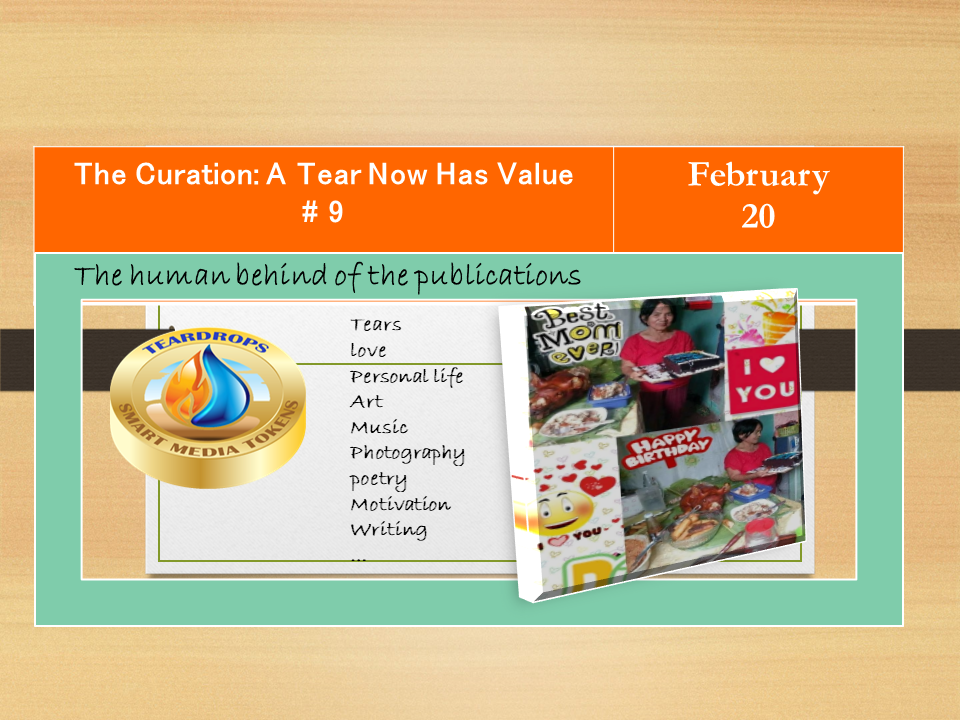 Welcome to the ninth edition The curation A Tear Now Has Value # 9, in this edition, 38 wonderful Steemians are rewarded with extra exposure and ascending votes to create inspiration and add tears of enjoyment.
| Description | Author | Post |
| --- | --- | --- |
| @angelbless | Personal life: Celebrating the birthday of his mother. It's our cover image | My Mother Birthday Celebration |
| @kimikal | Blog -Motivacion: " We have distinct barriers within ourselves that limit us away from the real version of us" " | Breaking the Boundaries, Going Beyond |
| @charvy | Personal life-He had a motorcycle accident. It would be a good gesture if you visit him. : "Though Its really hurt, but im happy because im alive .im so glad that i can still to stand up, and walk even i feel my pain in wound and body. And im Also thankfull to God , for giving a protection and extend my life." | STEEMIT. TEARDROPS MOTORCYCLE ACCIDENT. |
| @gaintshoulder | Personal life: "Steemit is wonderfully filled with wonderful people. Saturday was hard day for me, was so tired and exhausted and still I had to go to work….and alot of wonderful people… upvoted and commented. It gave me alot of boost and made my day if not the whole week." | A big thanks @surpassinggoogle |
| @cinderz | Personal life- She tells us her life story: "When my father knows about it, he said; why not going to Japan and work there? Earning money is so easy there. All you have to do is to show your #[email protected]?#@! Then in just one blink you get money!. When I heard it I felt my blood goes up in my head. It is so painful knowing that the first man who defend on your behalf was the first one to push your life in doomed." | ORDEAL "Wasak" Brokenhearted Writing Contest |
| @andrewjohntamban | Social work : STEEMIT ACADEMY LAGUNA CHAPTER is very eager in promoting the importance of Steemit in our lives but for the lives of those around us. This is to have a heart that is always willing to help children especially who are in need most of our guidance and the education they need. | A PRICELESS JOY |
| @katiepals | Personal life: His grandfather died. ¿Could you go through his blog and give a message of condolence? | THANK YOU FOR THE LOVE GRANDPA |
| @akoaypilipina | Personal life: his father is very sick. ¿Could you visit to her? | Papa… I Hope You'll Feel Better… |
| @carmenl | She is a senior lady, she feels nostalgic because she can no longer sew due to her pain in the spine. | Teardrops : And how do I control myself? |
---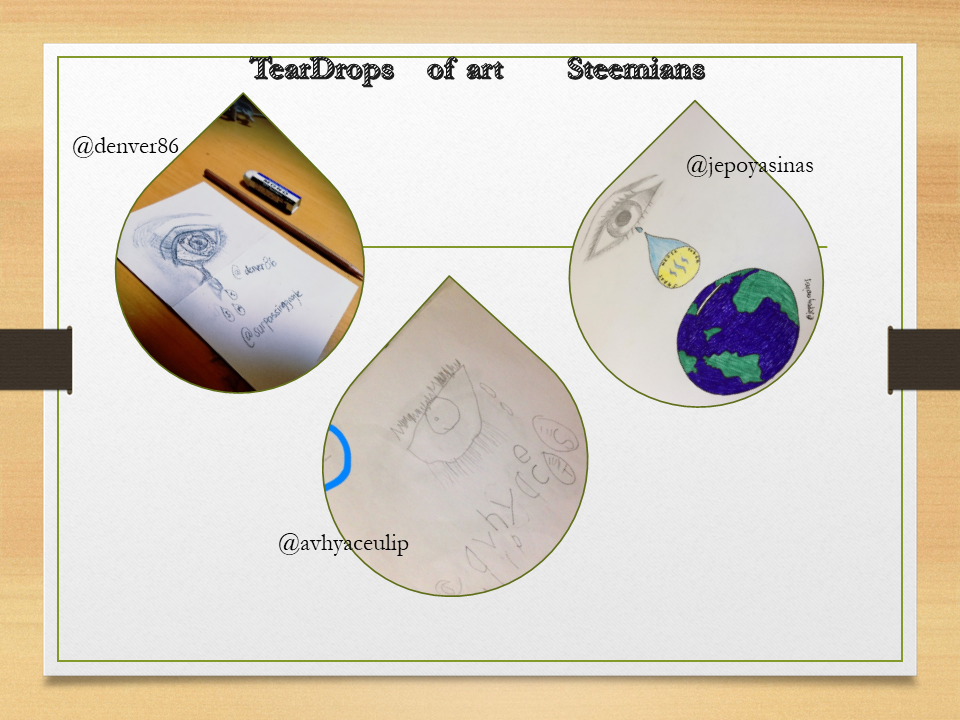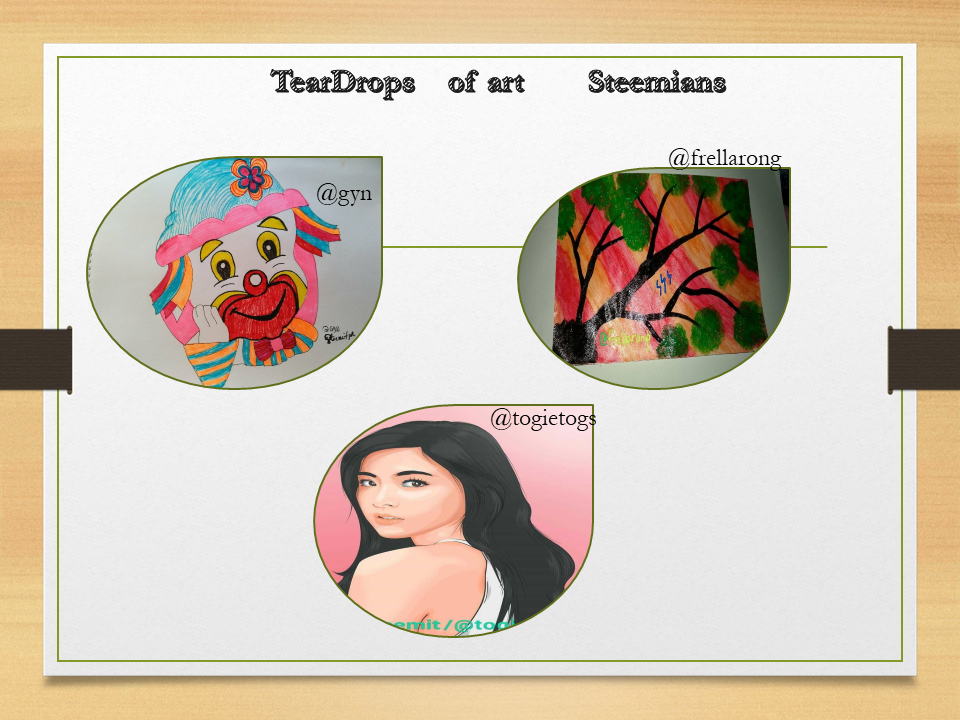 ---
Again:
Please visit some of these publications and check the posts of other users on the tag #teardrops, because there will always be someone there who needs your help, a hug, a kind word, a voice of encouragement.
Your Boy Terry
@surpassinggoogle
Please like @teardrops on Facebook and Twitter:
https://www.facebook.com/teardropstokens/
https://twitter.com/teardropstokens
I do need strength
Dedicating My Entire Steem/Steemit Journey To My Mum
If you want to support an extra witness and you support mine "steemgigs", it will be really helpful. I run a full public RPC 256 GB node as well to balance the steem ecosystem on "wss://steemd.steemgigs.org".
To vote my witness, simply visit https://steemit.com/~witnesses and type in "steemgigs" into the first search box for witnesses or simply click Here to do it on one click!
If you want me to make witness voting decisions on your behalf, simply visit https://steemit.com/~witnesses and type in "surpassinggoogle" in the second box for proxy.
Let's Go!!!
Offer a service under hashtag "steemgigs". Attempt out-of-the-boxness on hashtag (untalented).Join the Steemgigs Community on discord: https://discord.gg/CGuPyyT
Everyone has something to offer! ¿Why not?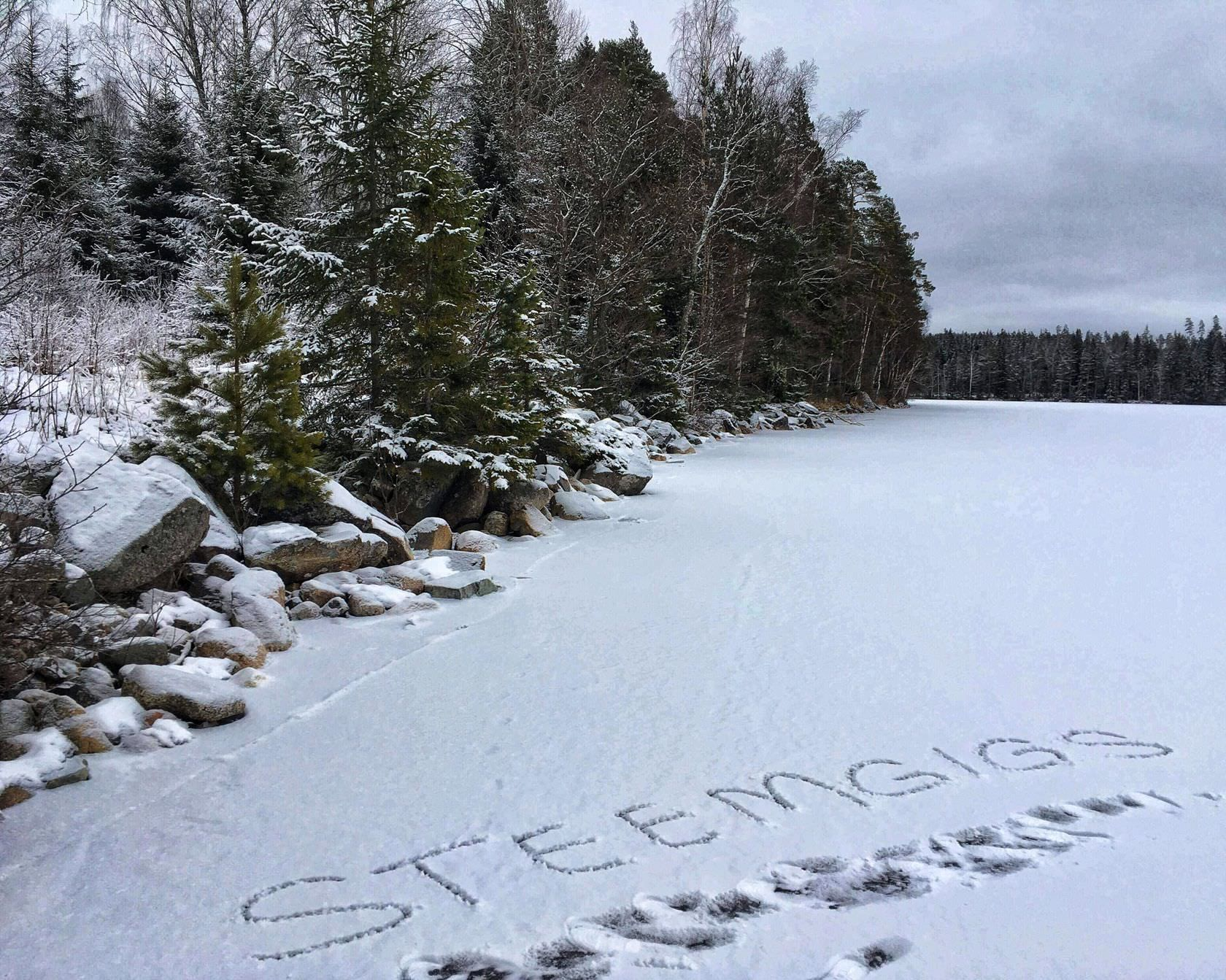 Read the 68 beautiful human comments accrued for this post by clicking HERE. It was originally posted by me on the social platform for uloggers globally on https://ulogs.org
Please subscribe to TeardropsTV and UloggersTV on YouTube for incessant video content from beautiful humans from all the across the globe.
You can support the furtherance of our cause:
To send me FIAT with debit/credit card click HERE
My PayPal email: '[email protected]'